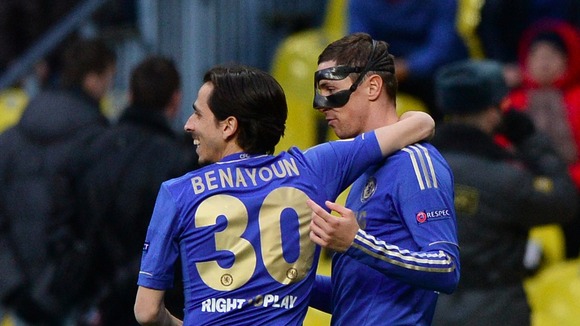 Chelsea will face Basle in the Europa League semi-finals after scraping past Rubin Kazan on Thursday night.
Europa League semi-final draw:
Fenerbahce v Benfica
Basle v Chelsea
Ties will be played on 25 April and 2 May.
Basle, who needed penalties to overcome Tottenham after their quarter-final was tied 4-4 after the two legs, will face a Blues side who secured their path to the final four with a 5-4 aggregate win over Russian side Rubin Kazan.
Portuguese side Benfica, who defeated Newcastle to leave Chelsea the sole English club left in European competition, have been rewarded with a showdown with Istanbul-based Fenerbahce on the next step to the final in Amsterdam on May 15.
The draw, held at UEFA headquarters in Nyon, also decided that the winners of Fenerbahce and Benfica will be classed as the home team in next month's final.
Chelsea club secretary David Barnard admitted Basle was the side the club wanted to draw in the semi-finals.
He told Sky Sports News: "I think we would have hoped for Basle, but then Basle have just put out Tottenham and were responsible for Manchester United not getting through the group stage which is a tough one.
"Credit must go to Rafa (Benitez) because of the way he has handled it and got Chelsea to two semi-finals (in the Europa League and Capital One Cup)."
Barnard also had one eye on the Europa League final, where he has already pinpointed Chelsea's preferred opponents.
"If we play in the final of the Europa League final we will still be holders of the Champions League so we could be holders of both trophies at the same time," he said.
"Fenerbahce and Benfica are both known to us. We played Benfica in last year's Champions League and we have a good relationship with them so I think we would prefer to have Benfica in the final."
The only other time Chelsea have played a Swiss club in a two-legged tie it ended in defeat, as they surrendered a 1-0 lead over St Gallen in the 2000-01 UEFA Cup first round, losing 2-0 in Zurich.
Meanwhile, Rui Costa, director of football at Benfica, appeared to be confident of overturning Fenerbahce in their semi-final.
Benfica last encountered Turkish opposition two seasons ago in the Champions League third qualifying round, where they won 3-1 on aggregate against Trabzonspor.
"It's our second semi-final in three years," Costa told UEFA.com.
"Benfica are growing and improving. We are happy to be here, but we want more.
"We still have two games to play, but, for sure, our goal is to reach the final."