Dave Whelan: Premier League survival still Wigan's No.1 priority despite FA Cup semi-final win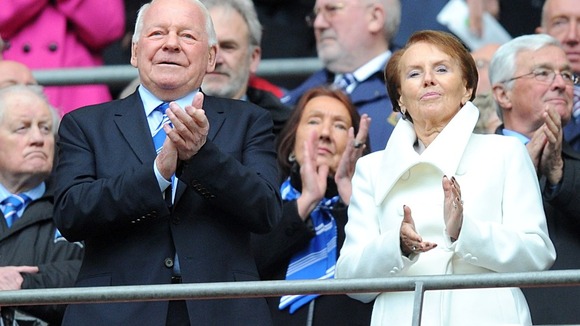 Wigan chairman Dave Whelan saw his club reach the FA Cup final with a 2-0 win over Millwall at Wembley yesterday but insists Premier League survival remains the club's main priority this season.
Goals from Shaun Maloney and Callum McManaman secured a comfortable semi-final victory over the Lions but, despite having a number of games in hand in the league, Roberto Martinez's side fell into the Premier League relegation zone ahead of their cup tie.
Whelan has overseen the Wigan's progress from a non-league club to a top-flight outfit and the 76-year-old knows remaining in the Premier League is vital.
"When we come out in the final it is something that is going to be a very special day," he said.
"But it [top-flight survival] is massively important, we have done it for eight years now and everybody said we would last one year.
"It is extra important this year because of all of the extra money coming into the game - I tend to plough a lot of that money into our youth facilities because Roberto and myself believe in getting our young players coming through."
Whelan has a history with the FA Cup, having broken his leg whilst playing for Blackburn in the 1960 final defeat to Wolves.
The Latics' chairman could now lead out Wigan at Wembley for this year's final but he admits even a victory would not banish the ghosts of 53 years ago
"The dream so far is okay," he added.
"I don't think it [playing in a final and being the chairman of a club in the final] has ever been done before, I might be in the Guinness Book of Records.
"But nothing makes up for losing in a cup final, I broke my leg and it finished my career in the top flight."
Wigan chief executive Jonathan Jackson confirmed this morning that the club would speak to the FA this week, with the prospect of Whelan leading out the team set to be discussed.
"We will be speaking with the FA this week and discussing the arrangements for the final. It is something that will be discussed in due course," he told BBC Radio 5 Live.
"Hopefully that is something that can happen because if that can happen it would be a fitting reward for everything that David Whelan has done fo the football club."
Whelan has also been vocal about his belief that the semi-final should not have been played at Wembley.
Wigan were widely criticised for not selling their allocation of tickets but Whelan blamed the transport links for preventing some fans from making the journey.
"I thought this should have been at Villa Park - a lot of our supporters couldn't get a train back," he said.
"We sold 22,00 tickets but you couldn't get back on the train, it is not on."