Millwall minority condemned after ugly crowd violence at Wembley – ten arrests made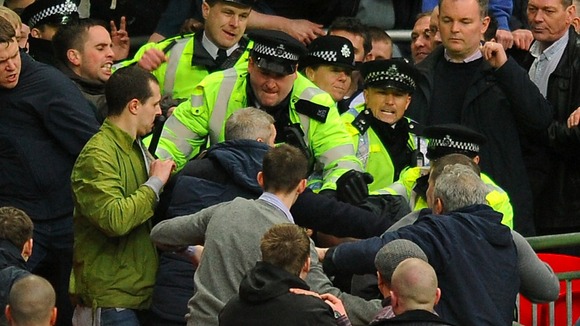 Some Millwall fans were condemned after crowd violence marred their FA Cup semi-final against Wigan at Wembley.
During the second half of their 2-0 defeat by Wigan, around 20 Millwall fans began fighting with each other behind the goal in disturbing scenes which left youngsters in tears and were witnessed by millions on television.
Police say 10 arrests were made while the Football Association launched an immediate enquiry.
Alex Horne, general secretary of the FA, said: "The Metropolitan Police and the FA are this evening investigating scenes of sporadic violence and disorder in the Millwall FC end at today's FA Cup semi-final.
"The FA and Wembley Stadium will work with police and representatives of Millwall FC to review all events.
"We will look to ensure those involved are identified and we would call for criminal charges and a football banning order to be brought against them.
"The FA deplores the scenes which have taken place, which are unacceptable. Everything will be done to take action against those involved."
Millwall have long had an unwanted reputation for hooliganism and today's scenes were a throwback to the 1980s.
The club themselves have vowed to find the yobs.
Chief executive Andy Ambler said: "Our position is clear. Anyone associated with our club found guilty of violent behaviour will be banned indefinitely from Millwall matches in addition to any punishment they receive from the authorities."
Chairman John Berylson, who flew in from the United States for the game, said: "There are always a few idiots. That's not our fan-base and we don't even know who those people are. We will be investigating."
Lions manager Kenny Jackett said: "I haven't seen it on TV yet but it doesn't sound good.
"It's disappointing. I know how hard the directors have worked to give the club a good image in recent years. We've overcome many hurdles in that area.
"It has no part in football, it's not what people go to football for."
Millwall captain Danny Shittu added: "Today was meant to be a good day out at Wembley. I'm disappointed by it.
"It's sad to hear about these things happening on a day like today. Things like that shouldn't be going on, It should be a great day for both sides."
Wigan manager Roberto Martinez, whose team will face Manchester City or Chelsea in the final next month, said: "It's a real shame because the game on the pitch was a great advert for the competition. A small minority give the game a bad name."
Latics chairman Dave Whelan was also appalled with what he saw.
He told BBC Radio Five: "I can't understand why the Millwall fans would fight each other.
"I understand if they want to fall out with the visiting team, but why would they fall out amongst themselves? It just gives football a very, very poor reputation.
"We know Millwall are a tough club, their team's tough to play, the supporters are Millwall Millwall Millwall... straight through. But don't fight each other."