Millwall skipper Danny Shittu upset by troublemaking minority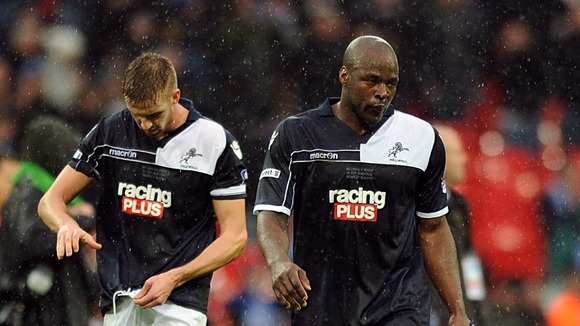 Millwall will today begin attempting to rebuild their shattered reputation after a group of their fans ruined the FA Cup semi-final at Wembley.
During the second half of their 2-0 defeat by Wigan, a group of around 20 Lions fans began fighting among themselves, and then with police as they tried to intervene, in scenes which shocked the football world.
Images of bloodied men and crying children were broadcast to a TV audience of millions as Millwall's name was dragged through the mud again.
It was a throwback to the 1980s, when Millwall were synonymous with hooliganism, and could undo decades of hard work behind the scenes to try to rid the south London club of its tarnished image.
The Football Association launched an immediate inquiry into the "deplorable" scenes while Millwall have vowed to ban the yobs.
But you felt for the players, whose efforts during their thrilling cup run had earned what should have been a memorable day out at Wembley for all the right reasons.
Captain Danny Shittu said: "No players want that to happen. It was supposed to be a happy day, regardless of the result it was meant to be good day out at Wembley.
"I'm disappointed by it but as players we just have to keep doing what we do.
"At the end so many supporters showed they were there just to spur us on but it's disappointing to hear about such things happening on a day like that.
"It's a small minority but things like that should not be happening. It should have been a great day for both sides."
It should have been the biggest day of young defender Shane Lowry's life.
The 23-year-old Australian said: "Sometimes you get a minority, but we brought almost 32,000 fans and the majority were fantastic. They outsung the Wigan fans and backed us throughout the whole game.
"It's disappointing to see incidents like that but the majority of fans have been fantastic this season."
Millwall were outclassed on the pitch as well, with goals from Shaun Maloney and Callum McManaman securing a deserved victory and a first FA Cup final for Wigan.