British Transport Police make 36 football-related arrests on a turbulent weekend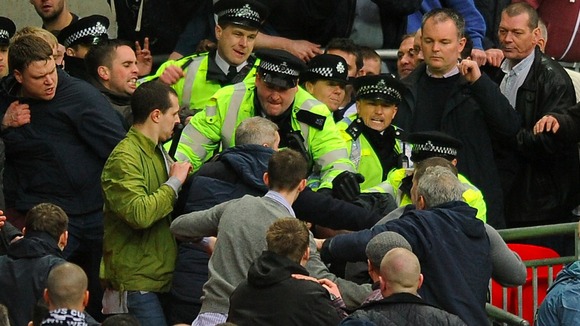 British Transport Police (BTP) announced they made 36 football-related arrests including for violence and racist abuse during a number of outbreaks of football disorder over the weekend. The BTP also suffered injuries to four of its officers.
Of the four injured officers, three were from the force including a female officer who was taken to hospital after a brick hit her shoulder.
Following the second FA Cup semi-final at Wembley, four Manchester City supporters were arrested at rail stations for offences including racially-aggravated public order, assaulting a train conductor and possession of drugs. Four Chelsea supporters were arrested at Wembley Park for offences including common assault and racially-aggravated offences.
On Saturday, BTP officers arrested six Millwall supporters for offences including affray, theft, racially aggravated and public order offences and being drunk and disorderly.
In other incidents, 11 Watford fans were detained at Kings Cross.
BTP Chief Constable Andrew Trotter said: "This was a very busy and, at times, very testing weekend of football policing.
"I'm extremely proud of my officers, who, alongside colleagues from local police forces, stood firm in the face of some truly difficult situations. This was most apparent in Newcastle on Sunday, where three BTP officers were injured in the line of duty. None, I'm glad to say, were seriously injured.
"This weekend saw at least 36 football-related arrests on the rail network, and the troublemaking minority were dealt with swiftly and robustly. However, the scenes at Wembley Stadium on Saturday and in Newcastle on Sunday serve as a firm and sobering reminder that there is still much more to be done in tackling football-related disorder."