Bundesliga round-up
by Ben Loder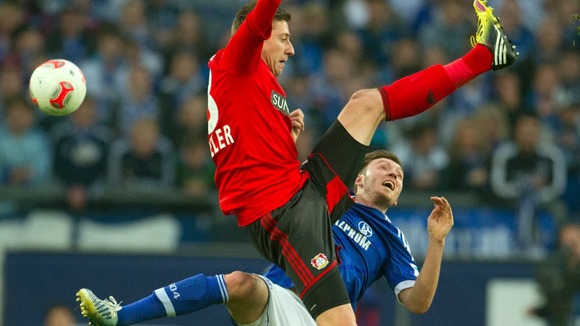 Third played fourth in the biggest game of the Bundesliga weekend, and while the 2-2 draw between Leverkusen and Schalke strengthened the home side's chances of a place in the Champions League group stage, Schalke were left the happier after recovering from a 2-0 deficit to snatch a point with a late penalty.
The Royal Blues felt justice had been done, as Leverkusen played on to go 1-0 ahead while the visitors' striker Ciprian Marica was down with a head injury. Nevertheless, it was Schalke captain Benedikt Höwedes who offered the most honest appraisal of the controversy, saying: "I'm not sure if we would have knocked the ball out of play in a similar situation."
Further down the table, FC Augsburg got back to winning ways with an impressive 2-0 victory against European hopefuls Eintracht Frankfurt. Augsburg remain in the relegation play-off place, but are fifth in the form table since Christmas. In contrast, the two teams above them, Düsseldorf and Bremen, have not won since February and are looking nervously over their shoulders after playing out a 2-2 draw on Saturday that helped neither side.
At the very top, it was business as usual for Bayern and Dortmund – easy wins on the pitch and trading zingers off it. Mario Gomez was back on the scoresheet as Bayern's B team put four past a helpless Nürnberg side, while Munich's sub keeper Tom Starke also saved a penalty with his face in the match. "The only reason it stayed at 4-0 was because Bayern took their foot off the gas," admitted the opposition's goalkeeper and captain Raphael Schäfer.
Meanwhile, doubles from Mario Götze and Ilkay Gundogan had helped put Borussia 5-0 up by half-time against the doomed Greuther Fürth, while José Mourinho watched on from the stands. "If he wanted to know if Götze can play on the left, now he does. He could have just called me and I'd have told him," said Jürgen Klopp after the match.
After the Champions League draw, which saw the German sides kept apart, Klopp "bet his arse" that Bayern sporting director Matthias Sammer would be on the phone with former Barcelona coach and future head honcho in Munich, Pep Guardiola. But Bayern CEO Karl-Heinz Rummenigge was not happy at suggestions the club would need outside help, even taking a dig at Klopp's recent admission to a Wayne Rooney-style hair transplant: "I fear Klopp's arse will end up in our museum some time," said the two-time European Footballer of the Year. "He'd have been better off betting a few hairs – at least he could have had them replaced."
All this followed the weekly pronouncement from Bayern's general manager Uli Hoeness, who described Dortmund as the "most beatable" of the teams remaining in Europe's top competition. While many are hoping for an international final, a German Klassiker to end the season would certainly have plenty of spice…