Wigan Athletic team more important than any individual player – Roberto Martinez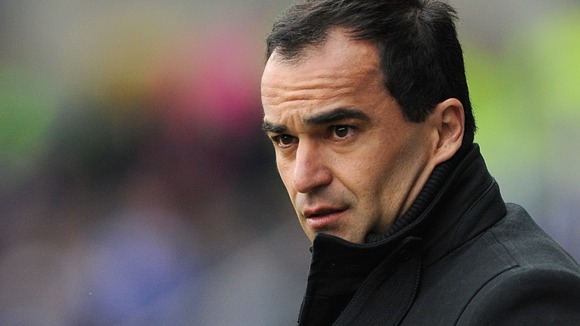 Wigan manager Roberto Martinez insists there are no prima donnas among the FA Cup finalists' squad and everyone understands the needs of the club take priority over individual concerns.
The Spaniard has discovered a successful formula in the last month and ever since their quarter-final victory at Everton he has kept faith in the same players.
In the last five matches he has made just one change - replacing goalkeeper Joel Robles for previous first-choice Ali Al Habsi for last weekend's Wembley win over Milwall.
He has been rewarded with four wins - two in the cup - and a draw, which has crucially contributed seven points to their relegation battle.
And while it has meant the likes of club captain Gary Caldwell and Al Habsi have been sidelined, Martinez insists the players understand it is for the greater good.
"Competition for places has stepped up a percentage, the level of training has increased and we have been unbeaten in the league since then," said the Spaniard.
"Players are desperate to help the team. There are no individual cases, from now until the end of the season it is about what we can do as a football club.
"There is a bigger role than playing or not playing. Everyone is aware the achievement as a team is more important than individuals.
"We have players who are fully aware of what they need to bring to the team and everyone is expecting to be used from now until the end of the season.
"If you have a player who is happy not to play he needs to move on, he's in the wrong business.
"Every player should be desperate to play and be disappointed for one second but after that there is a real sense of the group and what the team needs.
"People are very committed, they are desperate to help the team, but when they are on or off the pitch they know how to behave themselves.
"I think that is what we have showed in the last few weeks - a big club mentality in terms of facing every single game and forgetting about the individuals."
The Latics boss admits he may have to freshen up his side after the physically and emotionally-draining experience of a Wembley semi-final as they head to Manchester City tomorrow.
City have been a bogey side in recent seasons, with Wigan failing to score and losing their last six meetings.
Martinez admits picking an unchanged side has made things more difficult for him in terms of deciding how fit his players are and who needs a rest.
"I think it is more difficult because you need to make sure those players are fresh enough to keep playing and I think it is important to make sure we don't overload certain players," he said of his selection dilemma.
"What is important as well is to give a sense of continuity but I know we could make three changes and that wouldn't affect our performance and that is a very important feeling to have as a manager.
"When you can make changes from one game to another and not have a problem from a tactical point of view shows the work which has been put in over the last 10 months or so."
However, Martinez is confident, as he has been since the progressed from the quarter-final, that another Wembley appearance next month will not be a distraction for his players.
"For us being involved in two competitions at this time of the season is exactly what we needed as a football club if we want to step up to the next level," he added.
"I think we showed a really natural way of switching on to the league.
"We have such an important game (against City) I don't think you are allowed to celebrate too much.
"Once we have the FA Cup final in front of us then we will be able to get into the cup mode again.
"It becomes a really exciting target to have at the end of the season but it was exactly the same position after the quarter-final.
"The only way to be part of it is how you are going to perform and contribute in between."