Aaron Ramsey challenges Arsenal to bounce back from Everton setback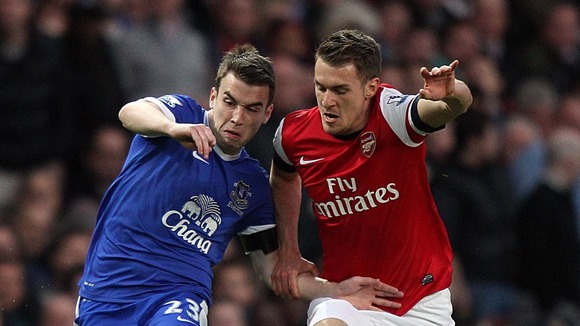 Midfielder Aaron Ramsey has challenged Arsenal to bounce straight back from their bruising clash against Everton by putting themselves back in the driving seat for Champions League qualification with victory at Fulham.
Arsenal manager Arsene Wenger felt Everton were over-physical as they battled to a point at the Emirates Stadium last night - claiming midfielder Darron Gibson should have been sent off for twice pole-axing Theo Walcott in the first half.
Gunners midfielder Jack Wilshere, meanwhile, clashed with Everton's Kevin Mirallas as the players walked off at the break, reacting angrily after appearing to be squirted with a water bottle. It remains to be seen whether that incident will be mentioned by referee Neil Swarbrick in his post-match report to the Football Association.
The Gunners have little respite though as they must quickly now prepare for Saturday's trip to Fulham, where they could move five points clear of rivals Tottenham, who would have played two matches less ahead of their Sunday clash with FA Cup finalists Manchester City at White Hart Lane.
"It is important (to get a five-point gap). We always knew this week was going to be a big one for us," the Wales midfielder said.
"We are still unbeaten in a load of games and hopefully we can finish the week off strongly by getting a win against Fulham. That will put us in a strong position."
Ramsey continued: "It was important for us not to lose against Everton.
"It didn't quite happen for us in the final third, but overall we were quite solid. We're looking forward to the weekend.
"We still have a lot of confidence.
"Tottenham and Chelsea still have tough games. Teams are going to drop points and we are still positive and confident that we can finish in the top four.
"We are third at the moment and Chelsea and Tottenham may feel a bit of pressure going into their games to get the three points.
"The squad is going to be important for us now. Hopefully everyone will stay fit and we can finish the job off."
Centre-half Per Mertesacker returned from a one-match suspension against Everton.
The German believes there will be plenty of twists and turns ahead as the race to finish in the top four looks set to go down to the wire once again.
"They (Tottenham and Chelsea) play against each other and Everton have tough games as well," Mertesacker said to Arsenal Player. "It is absolutely tight and hopefully for us we can win our important games, especially when we look at Saturday away at Fulham. That is the next target."
Arsenal have lost just once - at White Hart Lane - in their last 11 Barclays Premier League games, recording eight victories.
Mertesacker added: "We are in an interesting position and we have come back very strongly.
"We have responded well in the last couple of weeks and we are still on a good run."