Clarke: West Brom are not in the comfort zone yet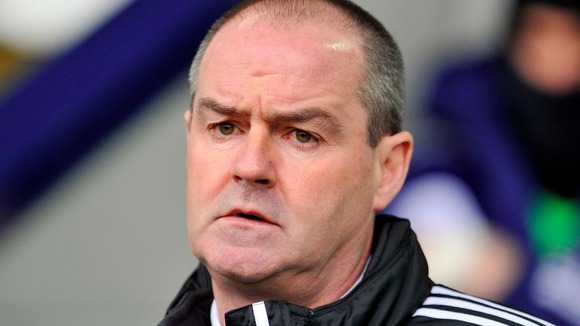 West Brom boss Steve Clarke rails against the idea his team are in a comfort zone - but he knows there are plenty of Premier League counterparts who wish they were.
Despite losing their last two matches, the Baggies remain in eighth spot, a legacy of an impressive first-half of the season that had fans optimistically talking about a European challenge.
Though they were unable to maintain that form, West Brom were never bothered about what was going on at the bottom of the league, where half a dozen clubs remain concerned about accompanying relegation certainties Reading and QPR into the Championship.
In a highly competitive league, that alone remains a feat to be acknowledged.
And Clarke knows there are plenty of others who with they could say the same, including Saturday's visitors to the Hawthorns, Newcastle.
"There are a lot of teams below us who would like to be sitting where we are just now, with the confidence and security of knowing they were in the league next year," said the Scot.
"The work we did in the first-half of the season is paying dividends now.
"I said in the first-half of the season that you have to balance the season as a whole.
"It doesn't matter when your good spell is, you will always have one. We had a prolonged good spell and we are getting the benefits now.
"It is important we don't let the season just drift away."
Although top flight clubs have an incentive to compete right to the end of the season given they all receive £755,000 per place, Clarke has other targets in mind.
Matching last season's points total for a start, which would in turn bring the half century into view. In addition there is a record for home wins in a season, which could be achieved against Newcastle on Saturday.
"It has been a reasonably good season for us," he said.
"We don't want it to just fizzle out. We don't want the last six games to drift.
"We have to give ourselves a target. One win would give us a record number of home wins in the Premier League. We would also reach 47 points, which was last year's total. It would bring us closer to 50 points.
"But I don't want to settle for 50. We have six games left. There are 18 points up or grabs. We have to get as many as we can and finish with as many points as we can."
Against the backdrop of pessimistic pre-season predictions, Clarke's first season as a manager in his own right has been an impressive effort.
Yet, with speculation intensifying around Jose Mourinho's potential return to Chelsea, there is a school of thought suggesting Clarke could be lured back to Stamford Bridge, where he spent three years as the charismatic Portuguese's assistant from 2004.
It was not a subject Clarke was interested in talking about today though.
"I have no idea what Chelsea are going to do in the summer," Clarke said.
"They have an interim manager in place just now and I am sure they will be focussed on finishing the season well.
"What they do after that is down to them."
Clarke confirmed striker Peter Odemwingie would miss the Newcastle game with a knee injury, whilst 16-year-old Izzy Brown, who was on the bench for a home defeat to Arsenal a fortnight ago, is struggling with a groin strain.