Allardyce: West Ham are not long-ball merchants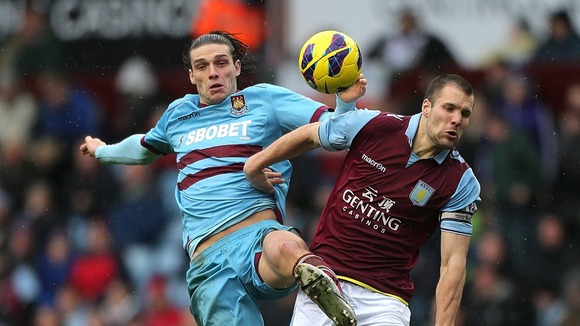 West Ham manager Sam Allardyce admits he will never be able to shake off his reputation for being a long-ball merchant.
West Ham will pass the all-important 40-point mark tomorrow if they beat Wigan at Upton Park.
Much has been made of Allardyce's supposed reliance on long-ball tactics this season, but the fact remains that his team are on course for a mid-table finish while Wigan, who pass the ball around more, are three points from safety with just six games left.
The accusation that Allardyce's teams play too direct is one that has dogged him since he took up his first full management post in England with Blackpool almost 20 years ago.
The 58-year-old admitted this morning that Andy Carroll's chances of playing for England could be tainted by the fact that he plays for Allardyce, but the West Ham boss has given up trying to persuade people his long-ball tag is unjust.
"I don't fight against it (the reputation he has gained), I accepted it many years ago," the West Ham boss said.
"I wouldn't encourage anyone to get tagged with that label because once you have got it, it doesn't leave you.
"The perception is totally and utterly wrong because we are where we are because we have many different tactical plans.
"I have been in management for many years now and I have been able to tactically set up against the opposition whichever way it might be.
"At some stage it might be direct. That causes the opposition problems. Manchester United played direct against us on Wednesday night, but everyone chose to ignore it.
"But they played direct better than we can because they have better passers so that's plain and simple for everyone to understand.
"Our form has been exceptional this season."
Allardyce claimed, in an interview with The Sun this morning, that Roy Hodgson is scared of fielding Carroll for England because he fears he may have to employ the same direct tactics that are often used by Allardyce and his teams.
Carroll's name has come back in to the England picture in recent weeks after he returned to form with a run of five goals from eight matches.
Carroll's performances have also re ignited the debate over whether the Hammers will make the towering striker's loan deal permanent at the end of the season.
Allardyce was coy on the club's chances of landing the 24-year-old today.
"His deal runs out at the end of the season. We will take it up from there," the Hammers boss added.
"In-between the start of the season and now things have changed.
"There was a new TV deal and after the new TV deal there is going to be new financial constraints so we can't do anything until the end of the season."
Although he caught David de Gea in a controversial aerial challenge, Carroll put in another strong display in midweek as West Ham drew 2-2 with Manchester United.
The Hammers would have grabbed all three points had Robin van Persie's equaliser been rightly ruled out for offside, but in reality the result has little impact on West Ham's chances of survival.
A win tomorrow will see bring the club up to 42 points for the season and for that reason Allardyce thinks the game against the Latics is even more important than their clash with the champions-elect in midweek.
Allardyce added: "We're in good form at the moment.
"I see this game as a bigger game than the Manchester United one and I hope the players do too because if we can produce a performance, it's massive in terms of where we want to be.
"It might not be mathematically impossible for others to catch us if we get past 41 but I don't think we will have any chance of being relegated."