Cardiff boss Mackay: We'll do it our way in the Premier League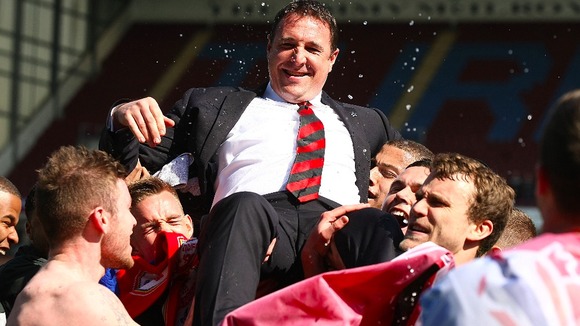 Cardiff manager Malky Mackay will not use rivals Swansea as a blueprint for Premier League success.
Four days on from sealing promotion, the Bluebirds collected the npower Championship title courtesy of a 1-1 draw at Burnley yesterday.
The prospect of a south Wales derby in the top flight is a mouth-watering one, with Swansea once again enjoying a superb campaign in mid-table comfort.
The impressive work of Brendan Rodgers, when Premier League football first arrived at the Liberty Stadium last season, has been impressively built upon by boss Michael Laudrup this time around following the former's departure to Liverpool.
Swansea collected the League Cup in February with a 5-0 thrashing of League Two Bradford - a year on from Cardiff's penalty shoot-out loss against Liverpool at Wembley in the same competition.
But Mackay was reluctant to draw parallels between the clubs and insisted Cardiff will tread their own path.
Asked whether Swansea were an inspiration to his team, he said: "No, not particularly.
"They've done a fantastic job, have Swansea. I'm very friendly with Brendan Rodgers, who went in there and made a huge impact on that football club, so I know them well, and Michael Laudrup's carried that on.
"Even before that you can look at what Roberto Martinez did there as well.
"For them to get to the Premier League and do what they've done is fantastic but we've got our own story.
"I've been here two years now and we've got our own way of going forward.
"We managed to get to the Carling Cup final last year, we managed to make the play-offs and we tweaked the team again in the summer.
"This year the players have been relentless in their nature of wanting to be promoted and be promoted automatically."
As Mackay awaits the rigours of Premier League management, he can be grateful for the presence of friends in high places.
Manchester United manager Sir Alex Ferguson sent text messages to his fellow Scot before and after Cardiff's decisive midweek stalemate with Charlton.
Mackay pledged to return the favour after lifting the league title - a feat Ferguson looks set to replicate in the near future.
"He's a very busy man but I'll certainly be in contact with him on the phone just to say thank you," he said.
"He had a text exchange with me beforehand and a little bit of advice, then obviously congratulated me but alongside a lot of other people.
"He's someone that gives his time to a lot of young managers and I'm one of a lot of people that he gives time to.
"That can only be good considering the lack of time that he's got in his life."