Can Daniel Sturridge fill the void at Liverpool?
by Sam Drury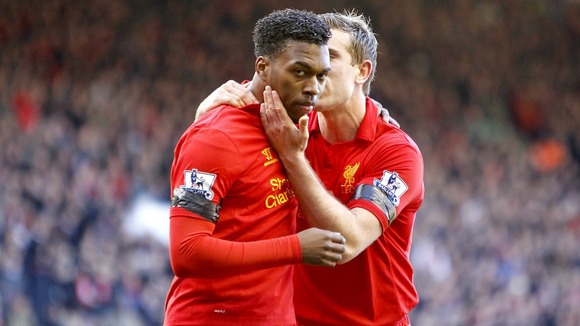 Amid all the controversy of the Luis Suarez biting debacle it would be easy to forget that a football match actually took place at Anfield on Sunday.
After a dreary first half, Liverpool twice came from behind to snatch a point against Chelsea. Suarez may have gabbed the headlines but it was the half-time introduction of Daniel Sturridge that sparked both Liverpool and the game into life.
Since his January move from Chelsea, the England forward has excited and exasperated Liverpool fans in equal measure. His arrival on Merseyside initially brought a mixed reaction from Reds supporters. Whilst some expressed concerns over Sturridge's supposed selfish attitude and laziness others chose to focus on the undoubted talent he possesses. In his first few months at the club he has provided ample evidence of both.
Sturridge's performances have often mirrored those of the Liverpool side as a whole - sublime one week, substandard the next. His display in Liverpool's defeat to Southampton last month portrayed Sturridge at his worst, showcasing all the negative traits that had initially worried Kopites. It was a dismal performance and result for Liverpool and Sturridge's unwillingness to work for the team epitomised all that was wrong with Brendan Rodgers' side that day.
He was subsequently dropped for Liverpool's next match at Aston Villa and since then has split his time between the bench and the starting line-up. At Reading last weekend, restored the first team, he was wasteful in front of goal as his side contrived to draw a game they should have had won long before half-time. His seeming lack of desire to work for the team was a far cry from the Sturridge seen in the second half yesterday and indeed the player who had, in tandem with Luis Suarez, terrorised Premier League defences in January and February, becoming the first Liverpool player to net in his first three games for the club since Ray Kennedy.
An injury sustained during the draw at his former club Manchester City, arguably Sturridge's best game to date for Liverpool, has undoubtedly affected his performances since. However, it cannot be the sole reason behind such dramatic fluctuation in his performances since January. There has been no middle ground with Sturridge and such extremes strongly suggest an issue of mentality. Can it be mere coincidence that his best performances for Liverpool have come against his two former clubs?
The added motivation of wanting to prove a point to his previous employers has led to performances that have seen Liverpool supporters label Sturridge a bargain at £12m. By contrast, his appearances in the defeat at Southampton and disappointing draws against West Ham and Reading suggest otherwise. That he was used on the right in two of those games may go some way to explaining his lacklustre showings. It is up front that Sturridge has been at his most effective and long term the Liverpool manager must find a way of playing that can get the best from his most dangerous attacking trio of Suarez, Coutinho and Sturridge without leaving his side too open defensively.
The challenge for Brendan Rodgers now though is to find a way of ensuring that Sturridge performs at the level he proved he was capable of versus Chelsea and Manchester City on a more regular basis or, at the very least, that when he isn't he shows the willingness to work that aided those performances. A regular starting berth in his favoured central striking role is a good place to start and the likely absence of Luis Suarez for the rest of the season gives Rodgers the perfect opportunity to do that in the short term.
One thing is for sure though, a fully motivated an firing Daniel Sturridge will be very important if Liverpool realistically want to reach the top four next season.