Manchester United striker Robin van Persie savours 'great feeling' after title victory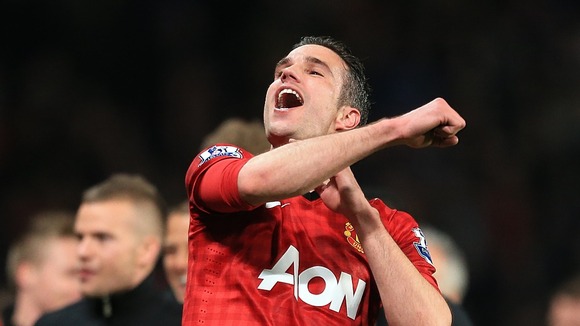 Manchester United striker Robin van Persie was understandably delighted after propelling Manchester United to their record-breaking Barclays Premier League title.
Van Persie has often been cited as the key factor in United's success this season and fierce rivals City falling well short of regaining the crown they won last year.
And the Dutchman underlined his class with a fabulous first-half hat-trick in the Red Devils' 3-0 win over Aston Villa which wrapped up their 20th domestic league crown.
"It didn't really matter who scored as long as we won this game and we did win this game," said the former Arsenal forward on Sky Sports 1.
"From the first minute everyone played well and everyone wanted it. It was a great to score so early and it was a fantastic game of football.
"I'm very happy but it's weird. I had to wait for so long for my first title and it's a great feeling."
After putting United ahead as early as the second minute, Van Persie then scored a wonderful second after 13 minutes - volleying in from just outside the area following Wayne Rooney's ball over the top - before sealing his hat-trick just after the half-hour mark.
Speaking of his second goal, Van Persie modestly added: "It was a great ball from Wayne, so the only thing I had to do was guide it right and hit it properly and it went in great but more important was the result."
Rooney revealed last year's heartbreak against City, who won the title in the last minute of the 2011-12 season, spurred them on to glory this season.
"It's what we've worked all year for and we've fully deserved it. We won this game in the first half and it is a fantastic night for us," the England striker said.
"When you lose the title, it's hard to take and the way we did it wasn't a nice feeling last time so we've all dug in deep and all worked together and done fantastic to put ourselves in the position tonight to finish the job off.
"You know how football is so you never take anything for granted so we worked hard and thankfully now it's done.
"The manager has great desire and a winning mentality. We all buy into that and want to do well for the club."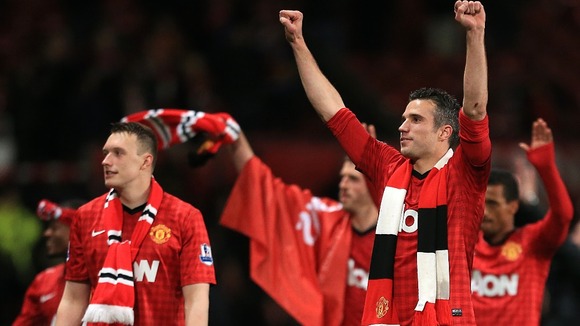 Manager Sir Alex Ferguson told Sky Sports 1: "I'm delighted for all the players, for myself, the staff and the supporters.
"You can go on and on about losing a title (last season) but at the end of the day, our consistency for the last 20 years is unbelievable.
"The focus of the team was good, they focused on the challenge of City and came up trumps."
Asked if Van Persie's second was a contender for goal of the season honours, Ferguson added: "Of the century for me. It was a marvellous hit, head down, over the ball, perfect timing - a magnificent strike.
"He's been unbelievable, his early form in the first six months was fantastic. He had the spell where he didn't score but he was unbelievable tonight."
Even on their way to the title, Ferguson's team have had to face the criticism that they lack the quality of United teams of the recent past.
But their manager said: "It's dead easy to say that, nostalgia plays tricks on people's minds. Put it in context, we've now got 84 points with four games left - we've never done that.
"We've won most of our games, drawn three, lost four, and the goal tonight... all the great goals we've scored over the years, from David Beckham through Ole Gunnar Solskjaer, Eric Cantona, that goal has joined that. These players have joined the pedestal."
Everything comes from the manager, getting players in, getting the right staff in, and he's just an unbelievable manager and an unbelievable person and he deserves everything that he gets.
– Ryan Giggs on Sir Alex Ferguson

United had to grind out results in the early part of the season, coming from behind on several occasions to win.

Veteran midfielder Ryan Giggs, who this season continued a phenomenal record of scoring in every Premier League campaign, believes injuries to key defensive players such as Rio Ferdinand and Nemanja Vidic largely contributed to their sluggishness.

"We had a lot of injuries early on, especially in the centre-half position, and once we got that sorted we looked really solid," said the 39-year-old.

"From Christmas onwards we've looked really good and once you've got that platform in defence you're always in with a chance."

The Welshman refused to be drawn on how long he would continue playing for, adding: "I'm just enjoying it and as long as I'm enjoying it and contributing to the team then I'm going to carry on.

"It's nights like this that you're going to miss when you finish but it's nights like this also that drive you on."

Giggs was also quick to pay a glowing tribute to Ferguson, hailing his long-time boss as "an unbelievable manager and an unbelievable person".

"His appetite is second to none. Every day at the training ground he's the first there, his enthusiasm is brilliant and that feeds through the club, he is the club," Giggs added.

"Everything comes from the manager, getting players in, getting the right staff in, and he's just an unbelievable manager and an unbelievable person and he deserves everything that he gets.

"He works hard and I've been very lucky to play under him for so long."