Van Persie signing the key to Manchester United's canter to the title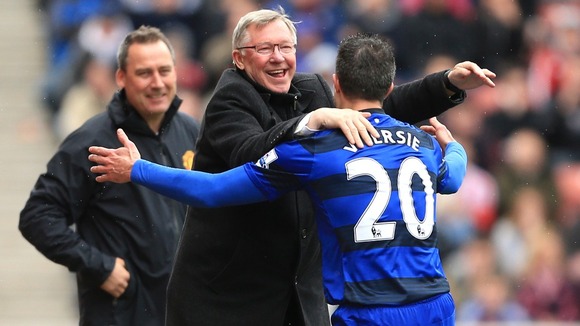 It did not happen during the season. It did not even happen in England. But it was the image on which the entire campaign was shaped.
Twenty four hours earlier, Sir Alex Ferguson had sat, relaxed and in control, in a beautiful Durban hotel overlooking the Indian Ocean, denying he was considering a move for Robin van Persie.
As Ferguson nestled in his seat for the following morning's flight to Cape Town, Arsenal let it be known United had indeed expressed an interest in their best player.
Now, in the bowels of the stadium in which Holland defeated Uruguay to reach the 2010 World Cup final, Ferguson was trying to explain away his stance.
"I think Arsenal came out with a statement saying we made a bid. You know we try to do business before we announce anything and that's what we're going to do," Ferguson said.
Even that information was only prized out of Ferguson after he had been informed that an interview he had given to MUTV, in which he admitted a bid, had just been made public.
It was almost comical to see the Scot squirm. But the man who was really shuffling around in a most uncomfortable fashion was Roberto Mancini, for the Manchester City manager knew his number one transfer target was heading for his rivals.
In the intervening months, Mancini has declared so often Van Persie has been the difference between the two Manchester outfits.
He remains convinced the Dutchman could have been lured to the Etihad Stadium if then director of football Brian Marwood had moved quickly enough.
Ferguson is equally certain Van Persie would not entertain joining City and had he not switched to the Old Trafford outfit, he would either have been transferred to Juventus or remained where he was at Arsenal for the remaining year of his contract.
The exact truth will probably never be known.
But Van Persie has certainly made the difference, and not wholly through his contribution on the pitch, which, for the first three fifths of the campaign was utterly magnificent.
Until 2008 and the arrival of Dimitar Berbatov, United had been used to big-name signings.
They had not always boasted the most money, but they could always punch their weight.
Ruud van Nistelrooy, Juan Sebastian Veron and Rio Ferdinand all arrived just into the new millennium for vast sums. Ditto Wayne Rooney later on.
Ferguson paid in excess of £30million for Berbatov.
But in the four years since, hardly anything. United fans had to watch aghast as Manchester City, the club they had spent a lifetime laughing at, went on a spending spree that eventually gathered some of the world's best players.
There might have been chuckles at the inconsistencies of Emmanuel Adebayor and Robinho. But when Yaya Toure, Sergio Aguero and David Silva followed Carlos Tevez into the Etihad, no one was laughing. These were seriously
good players for a serious club.
And all the while, Ferguson tinkered, adding the likes of Ashley Young and Phil Jones to his squad, persuading Paul Scholes to come out of retirement.
One title and two very near misses in the previous three seasons were decent, but many supporters feared City's first triumph last term would only be the beginning.
The arrival of Van Persie therefore, was more than the introduction of a world-class player.
It was a statement of intent. That Ferguson was still willing to go toe to toe for the biggest names.
For Van Persie to make the impact he has, starting with that match-winning hat-trick at Southampton, then crucial goals that sealed crucial victories at Liverpool and Manchester City, merely underlines the wisdom of paying £24million for a 29-year-old who had just one year of his contract remaining.
The Dutchman's contribution ensured City were playing catch-up from the new year and United's remorseless attitude did the rest.
Chelsea were never in the hunt. Arsenal and Liverpool are no longer expected to be, Tottenham and Everton haven't for many, many years.
It meant the only danger for United was from themselves. And though there was an element of naval gazing in the wake of the sickening manner of their Champions League exit to Real Madrid, it only cost them a shot at the FA Cup and derby bragging rights.
In July, in restoring United's status, Ferguson had hit the main target long, long ago.