Ben Loder's Bundesliga round-up - Bayern president admits tax fraud
by Ben Loder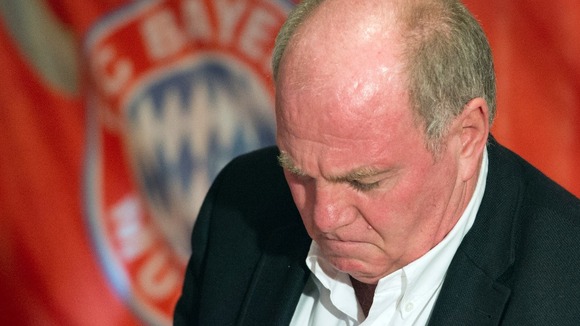 Football has made it onto both the front and back pages in Germany this week with the news that Bayern Munich President Uli Hoeness has reported himself to the authorities for tax fraud and an investigation is ongoing. The sums involved and potential consequences are not yet clear, but the repercussions for the club could be severe: Hoeness has always presented himself as an example of morality and recently questioned whether UEFA President Michel Platini would be strong enough to implement Financial Fair Play regulations "against his friends in Paris, Milan or Manchester".
Were Hoeness now to face prosecution, it would do serious damage to the reputation he has cultivated and may even make his position in the boardroom untenable.
Nevertheless, there were still no problems on the pitch for the Bavarians this weekend. Coach Jupp Heynckes' biggest issue now is who to pick up front in place of the suspended Mario Mandzukic when Barcelona come to town for Tuesday's Champions League semi-final – Claudio Pizarro and Mario Gomez both started against Hannover on Saturday and scored two goals each in the 6-1 rout.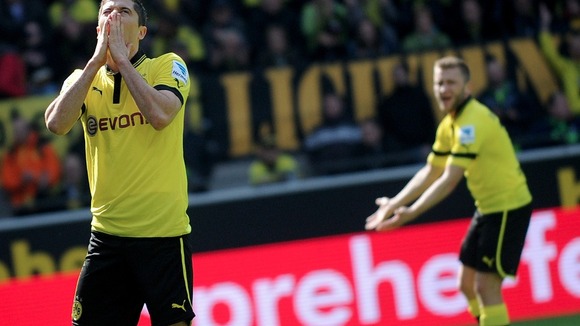 Borussia Dortmund do not have such a wealth of options, so Jürgen Klopp was left sweating over the fitness of Robert Lewandowski ahead of the visit of Real Madrid on Wednesday. The Pole scored for the 12th league match in a row on Saturday (a 2-0 win against Mainz), but also picked up a thigh knock. However, Lewandowski moved to quash fears via his Facebook page on Monday, writing, "I just wanted to calm you all down – my appearance on Wednesday is not in danger! The muscle is bruised, but I'll be fit for Real!"
The good mood in the camp was obliterated this morning, however, with the amazing news that Dortmund's Wunderkind Mario Götze will transfer to perennial title rivals Bayern this summer. The 20-year-old's release clause, believed to be around €37 million, has been activated.
A little further down the table, the race to qualify for next season's European competitions remains tight, with just two points separating fourth and eighth position. Frankfurt had the right mix of youth and experience to gain a vital three points against Schalke – 38-year-old goalkeeper Oka Nikolov put in a man-of-the-match performance, while 17-year-old Marc Stendera crowned his first Bundesliga start with a match-winning assist. "I couldn't sleep the night before the match," admitted the fifth-youngest player in Bundesliga history, "but after my first touch it was better, and in the end I had a lot of fun!" said the German U-19 international.
There was no real change in the relegation battle – a very rare win for Fürth in their derby against Nürnberg won't be enough to save them, and the other candidates all lost. However, while Werder Bremen remain five points clear of danger, Thomas Schaaf's job as manager is looking as unsafe as it ever has in his incredible 40-odd years at the club (14 of which have been spent in charge of the first team) after nine league games without a win. The club have reiterated their support for the manager, at least for another week, but after a 3-0 home defeat against fellow strugglers Wolfsburg on Saturday, even Schaaf acknowledged that changes might be on the way: "If I'm in the way here, I'll step aside," said the 51-year-old one-club man.