Borussia Dortmund midfielder Mario Gotze will join Bayern Munich, the club have confirmed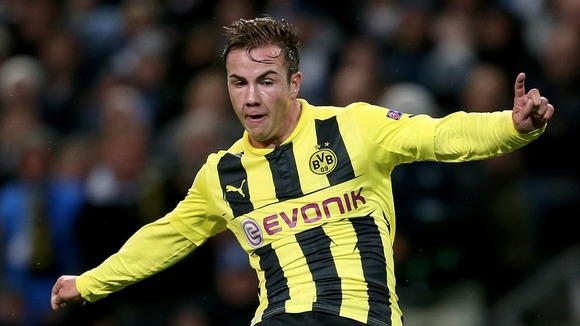 Germany international Mario Gotze will leave Borussia Dortmund after the club confirmed he will exit Westfalenstadion and join Bayern Munich in July.
A statement on Dortmund's Facebook page confirmed the news, although the club stressed they had yet to hear anything official from the newly-crowned Bundesliga champions.
The statement read: "Mario Gotze's agent Volker Struth told us a few days ago that the player wishes to make use of his release clause and on July 1, 2013 move to Bayern Munich."
Dortmund chief executive Hans-Joachim Watzke said: "We are obviously disappointed beyond measure, but emphasise that both Mario and his advisers have behaved within the terms of the contract.
"From Bayern Munich there has been nothing official on this matter up to this date."
The timing of the announcement is far from ideal for Dortmund who host Real Madrid in the first leg of their Champions League semi-final tomorrow night.
But the club have asked for fans to support Gotze and the rest of the players as they seek a place in the Wembley final against Bayern or Barcelona.
The statement added: "Coach Jurgen Klopp and sporting director Michael Zorc asks all fans of Borussia Dortmund to support Mario Gotze unconditionally as they would any other player in the final games of the season, but especially in the important Champions League semi-final against Real Madrid."
Losing Gotze, especially to their closest domestic rivals, would be a huge blow to Dortmund.
Klopp's side recently relinquished the Bundesliga title they won in each of the past two seasons with Bayern winning the 'salad bowl' in record time.
Gotze's release clause is reportedly set at 37 million euros (£31.5m), meaning that should he complete the move he will become the most expensive German player of all time.
The 20-year-old has emerged as one of the most coveted players in European football since coming through the ranks at Dortmund and making his Bundesliga debut in November 2009.
He played a key role as Dortmund won back-to-back Bundesliga crowns and has made 22 appearances for Germany, scoring five goals.
In January, Bayern announced former Barcelona coach Pep Guardiola will succeed Jupp Heynckes as boss this summer, having signed a three-year deal.