Aston Villa boss Paul Lambert says Premier League can learn from Bundesliga model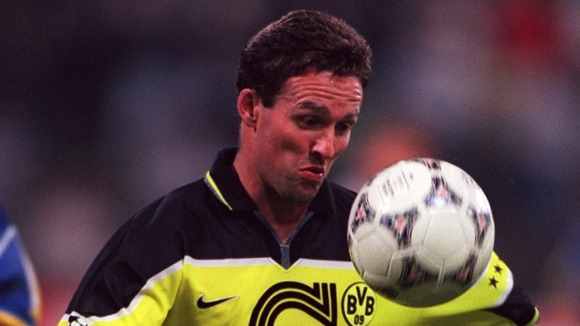 Aston Villa manager Paul Lambert feels the Barclays Premier League can learn a lot from the Bundesliga model after watching his former side Borussia Dortmund stun Europe last night.
The Scot lifted the Champions League trophy as a midfielder with the Westphalian club in 1997 - a first continental title since reunification that provided a watershed moment for German club football.
Sixteen years later the nation can dream of another history-defining summer as both Dortmund and Bayern Munich took dominant leads over Spanish clubs Real Madrid and Barcelona - 4-1 and 4-0 respectively - in this week's semi-final first legs.
An all-German final at Wembley on May 25 would give British football fans the chance to observe the exciting brand of football first hand, and Lambert believes the evening could inspire jealousy and, as a result, possible reform in the Premier League.
The Villa boss told Press Association Sport: "It's not changed since I played there. German football's always been strong.
"I'm absolutely delighted Dortmund are doing great. It's a fabulous club, the most special fans I've ever played in front of. The Westfalenstadion is a brilliant football arena to play in.
"It doesn't surprise me because it is a special club. There's a great rapport with the fanbase it has.
"The fanbase is phenomenal, there's one team in the city, which certainly helps. The league's really strong. Every game you go to in the Bundesliga it's mostly full.
"The way they live their lifestyle is a major factor as well. There's a lot to look at there.
"I hear that argument every time, 'maybe we should take a leaf out of the German model'?
"Everybody says it but nothing really gets done."
Martin Jol was a midfielder with Bayern in his youth and knows the Bundesliga well from a spell managing Hamburg four years ago.
The Fulham boss, however, used the domestic duopoly enjoyed by Bayern and Dortmund to demonstrate his belief that the Premier League remains a tougher competition.
"Bayern have always been a top team and Dortmund won the German league twice in three seasons," he said.
"The Bundesliga is a very strong league but Manchester United could have been in the final without the sending-off against Real Madrid.
"The result last night was a bit special though, and Bayern against Barcelona too. I still don't think the Bundesliga is as strong as the Premier League."
Celtic manager Neil Lennon believes the semi-final results show the strategic success of German football. "Germany is thriving at the minute," Lennon said. "They took a step back and looked at what was going wrong because Spain was the dominant country. They are starting to reap the rewards again."
And Lennon, whose team beat Barcelona to reach the last 16 this season, would relish a meeting with a Bundesliga side next term.
"When the draw came out and we got Barcelona, everyone was going 'we are not going to get any points'," he said. "If we get a German team, it will be brilliant.
"It will be a different style of football. They play a powerful counter-attacking football. Bayern were just too strong for Barcelona and I thought Dortmund were magnificent.
"It's a fantastic club and they get 80,000 more or less every week. There are more or less full houses in Germany every week."
Stoke manager Tony Pulis, meanwhile, credited the German tradition of developing technique from a young age.
"If you watched the two games, the power and the pace of the Germans - both teams in Munich and Dortmund - was unbelievable, absolutely fantastic," he said.
"The players from both sides were technically very good.
"What the Germans have done is master, and are squeezing more out of, their sports science in respect of fitness, power and speed, and they are coupling that with some great players as well."
Roberto Martinez was able to offer a Spanish perspective on the events that unfolded this week.
The Wigan boss said: "It wasn't expected at all. Real Madrid was the biggest disappointment. Barcelona's best player was not at his best.
"They had a problem at the back. You could argue three of the four goals shouldn't be allowed. Yesterday was an incredible showpiece of German football.
"The standard of the German teams, you have to admire that."
St Mirren boss Danny Lennon famously scored against Bayern Munich to put Raith Rovers 1-0 up at their former Olympiastadion home during a UEFA Cup tie back in 1995.
The German giants eventually sent the plucky Scots spinning with a 4-1 aggregate triumph but Munich retains a special place in Lennon's heart and he praised the efforts of Bayern and their compatriots.
He said: "I was talking about the two results with my staff this morning and we were saying that a few eyebrows had been raised when Pep Guardiola took the Bayern job.
"But the answer to why he's going there has been shown over the last couple of days
"He has clearly seen a trend in the game. The Spanish league is still incredible but you have got to admire the different qualities the Bundesliga is producing at this minute.
"They are fit, physical and their game intelligence is impressive.
"I won't rule the Spanish sides out just yet but what an achievement it will be if Bayern and Dortmund make it to Wembley next month."