Liverpool manager Brendan Rodgers continues to support Luis Suarez after striker handed 10-match ban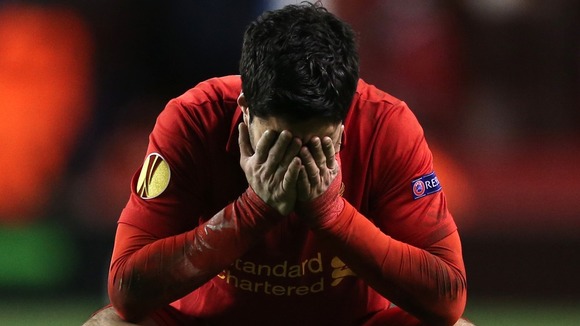 Liverpool manager Brendan Rodgers insists striker Luis Suarez will not be "thrown into the garbage" following his 10-match ban for biting Chelsea's Branislav Ivanovic.
The Reds boss reiterated the stance of managing director Ian Ayre earlier this week by stressing the club will not sell the Uruguay international.
And he remains confident that once Suarez has got over the shock of his suspension he will look to the future with Liverpool and not seek a move elsewhere despite suggestions he felt victimised in England and was considering his options.
Rodgers has consistently supported Suarez - while also admonishing him when he admitted to diving trying to win a penalty earlier this season - and does not believe his backing has been undermined.
"He hasn't let me down one bit, not at all," he said.
"I believe if I had half-a-dozen players with the similar mentality we would be in a different position as a club.
"He fell way below the standards set at the club but it doesn't mean he should be thrown to the garbage, which is what has happened with a lot of people in the last few days.
"He is working tirelessly, him and his family, to fit into the way of life in this country.
"Unfortunately for him he has made a mistake and he has got a sanction which I don't believe fits with what he did.
"It is way too early to say (about the player's future). Having spoken a lot with him he is visibly very disappointed.
"This is something he knows was clear and he expected the punishment and I think he hoped he would be supported in a rehabilitation process.
"But I look in his face and for the first time since I arrived here I see a genuine guy who is bitterly disappointed."
Rodgers said part of the 26-year-old's dismay came from seeing inconsistent punishments applied elsewhere, with the Reds boss alluding to the four-match ban John Terry received for racism last season as opposed to the eight Suarez got for a similar offence.
"It will take a bit of time for him to reflect, for him to try to understand why other cases people haven't been punished or some have got a smaller punishment - in other instances less for what you deemed to be more serious accusations in society," added the manager.
"For us it is a case of us supporting him and he is still very much part of the Liverpool family and part of our future.
"Even though he is not playing he has got to be very important for us going forward in order for us to succeed."
Rodgers also revealed no decision has yet been made on whether captain Steven Gerrard will have an operation on a shoulder problem in the summer.
First-team coach Mike Marsh has suggested yesterday it was likely the England skipper would have to undergo surgery - missing matches against the Republic of Ireland and Brazil - but the Reds boss said that was not necessarily the case.
"There's nothing in that at all, really," he said.
"You'll have noticed over the last year or so, whether he's been playing for Liverpool or England, he's had some taping and strapping on his shoulder - but there is no immediate surgery planned.
"We're just going to see how it goes between now and the end of the season.
"He's dealt well with it and performed remarkably well, so there is no decision on it at all."