Southampton manager Mauricio Pochettino thinks his side could make the top four next season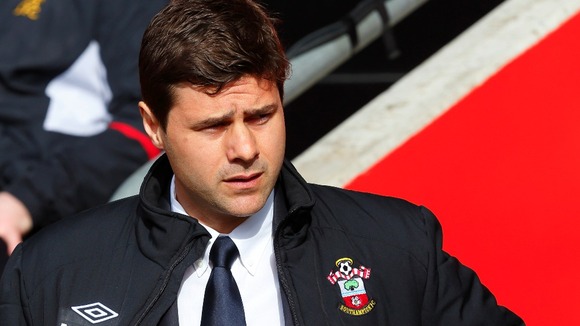 Southampton manager Mauricio Pochettino has dismissed claims by goalkeeper Artur Boruc that the club could be playing Champions League football in the next couple of years - but only because he feels it could come sooner.
Boruc, who penned a new deal at St Mary's last week, had said there was no reason why Saints could not push on from their impressive first season back in the Barclays Premier League to push for a top four finish within two to three years.
Pochettino has drawn the plaudits for the way he has got Southampton playing since replacing Nigel Adkins as manager in January and says optimism is required in football if you want to ultimately succeed.
When asked if he agreed with Boruc's prediction Pochettino replied: "Why in a couple of years? It might be next year.
"I think in football if you have to be something, you have to be optimistic - why not dream of big achievements, big goals?
"We are an ambitious club and we have a clear way of how we want to proceed and the type of football we want to be playing, where there are means of getting that done.
"Why not put in the effort, the imagination to make that happen and dream together to reach for the stars, why not?"
Pochettino welcomes West Brom to the south coast on Saturday knowing that a win could see his side move back into the top half of the table.
The former Espanyol boss is expecting a tough outing but wants to keep the recent run of positive results in tact.
"It is really important for us finish the season well," he said.
"We have to get the maximum number of points out of the games we have left, starting on Saturday.
"We know that the game against West Brom will be a tough one, we know they are a good side but at the same time we are on a good run of games.
"As I have said before, every game in the Premier League is a tough one and all of our rivals are tough to play against so we have to focus on Saturday to get a good result and continue the run."
With top-flight status all-but confirmed Pochettino will no doubt be casting one eye towards next season and the potential to add to his squad over the summer months.
"I think there is already a good level of quality of footballers in my squad," he added.
"But we are open as a club to try and reinforce in the positions we feel we need to improve - logically if we have the chance to improve then of course we will go for those players and I'm sure that my squad and the club itself would welcome new signings."
Pochettino also offered his opinion on the 10-match ban handed to Luis Suarez after the Liverpool forward bit Chelsea's Branislav Ivanovic last weekend.
"For me the ban is not the most worrying thing," he said. "The most worrying thing is to know and understand what motivated Suarez's behaviour.
"I think there needs to be some kind of punishment but at the same time you have players who go in hard on tackles and they got only maybe two games or three games."