Suarez bite 'alien to football' – FA Regulatory Commission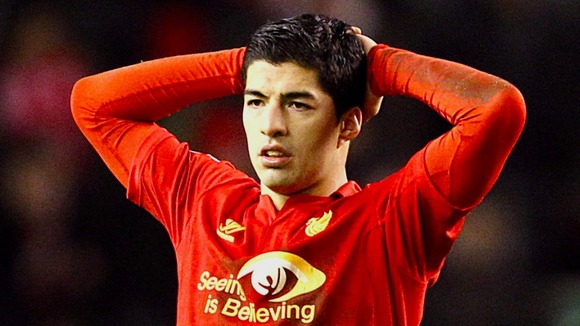 Liverpool striker Luis Suarez was banned for 10 matches for biting Chelsea's Branislav to act as a deterrent to further such "deplorable behaviour", an Football Association Regulatory Commission ruled.
The Uruguay international was handed a lengthy suspension for the incident, missed by referee Kevin Friend but subsequently reviewed using television evidence, in last weekend's 2-2 draw at Anfield.
Suarez today decided not to appeal against the sanction, seven matches more than the statutory ban for violent conduct, having read the reasons of the panel, which have now been made public.
"We believe it is our duty to discourage any players at any level from acting in such a deplorable manner or attempting to copy what they had seen on the television," said the report.
"The incident of biting an opponent is alien to football and must remain so."
The panel also stated that Suarez had failed to "fully appreciate the gravity and seriousness of this truly exceptional incident.
"It is completely unacceptable and such truly disgraceful behaviour could also lead to possible health issues," said the report.
The report added: "This truly shocking incident had been seen by millions of viewers both domestic and overseas, as well as generating a great deal of interest and debate amongst countless numbers of people.
"Whilst we accepted that Mr Suarez's reputation had been impacted, these unsavoury pictures would have given a bad image of English football domestically and across the world alike.
"All players in the higher level of the game are seen as role models, have the duty to act professionally and responsibly, and set the highest example of good conduct to the rest of the game - especially to young players.
"In this regard and on this occasion, Mr Suarez's conduct had fallen far below the standards expected of him.
"We took into consideration Mr Suarez's apology, his personal statement, supporting letter from Mr Brendan Rodgers and the letter from Ms Zoe Ward (Liverpool's secretary).
"But when these were read in conjunction with Mr Suarez's denial of the standard punishment that would otherwise apply for violent conduct is clearly insufficient, it seemed to us that Mr Suarez has not fully appreciated the gravity and seriousness of this truly exceptional incident."
I've just spoken to Ivanovic on the phone and I could apologise directly to him. Thanks for accepting.
Suarez had previous history of biting an opponent, PSV midfielder Otman Bakkal, for which he served a seven-match ban immediately before he left Ajax to join Liverpool in January 2011.
In a separate matter, he was also banned for eight matches last season after being found guilty of racially abusing Manchester United's Patrice Evra.
However, the commission paid no heed to either of those in deliberating his case.
"We did not take into consideration any previous disciplinary records of Mr Suarez and considered the offence in isolation," said the report.
The panel, comprised of chairman Thura KT Win, JP, Roger Pawley and Brian Talbot, said of Suarez's bite "it would be preposterous to conclude that it was not an intentional act".
But they disagreed with the Football Association's suggestion the striker had done so to provoke a reaction from Ivanovic in an attempt to get the defender sent off.
"We found that biting an opponent in itself was extremely shocking, unexpected and truly exceptional," said the report.
"The participants in a game of football do not expect to be bitten by another participant when they come to play football.
"In this incident, Mr Ivanovic would not, and should not, have been expected to be subject to such a shocking and reprehensible action.
"The incidents of biting an opponent in football are very rare at the moment and we need to ensure that it will remain so."
In a statement earlier Suarez said he did not appeal against his ban because he realised his behaviour was unacceptable.
"I am truly very sorry about the incident with Branislav Ivanovic. I hope that all the people who I have offended at Anfield last Sunday will grant me forgiveness," he said.
"I know that all the things that are happening to me in England will help me improve my conduct on the field.
"Right now I just want to focus on becoming a better footballer on and off the field.
"I would like to explain to everybody that I decided to accept the ban because whilst 10 games is clearly greater than those bans given in past cases where players have actually been seriously hurt, I acknowledge that my actions were not acceptable on the football pitch so I do not want to give the wrong impression to people by making an appeal.
"I really want to learn from what has happened in the last two and a half years, many things have been said and written about me, I just tried to do my best on the field. I hope to come back early to play."
Liverpool managing director Ian Ayre continued his support of the striker, who he revealed made the decision himself not to appeal.
"We are all disappointed at the severity of the punishment and in particular the differing standards that have been applied across various previous incidents.
"Luis is an important member of our team and nothing has changed in that regard.
"We are committed to helping him improve his conduct and he will be given our full support."
Manager Brendan Rodgers, who was highly critical of the disciplinary process and the length of the ban yesterday, added: "We can't hide our disappointment at the outcome of this situation, but we have to move on and support Luis in his decision.
"He will be missed for the remainder of this season and the early part of next, but we will have the opportunity to welcome a better person and player when he returns."