Roberto Mancini on Luis Suarez: 'He made a mistake, do you want to kill him?'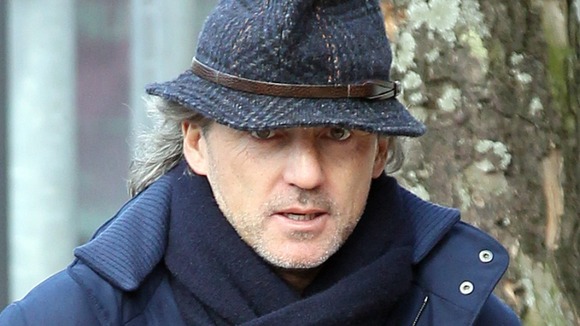 Manchester City boss Roberto Mancini would have voted for Luis Suarez as Premier League player of the season despite his bite on Branislav Ivanovic.
The Uruguayan yesterday accepted a 10-game ban for the indiscretion during last weekend's 2-2 draw between Liverpool and Chelsea, meaning he will miss the first six matches of next season.
Suarez, who last year served an eight-game ban for racially abusing Manchester United's Patrice Evra, has been widely criticised, but Mancini believes the punishment is too harsh.
The Italian picked the Liverpool striker as his player of the season, and said: "He made a mistake, he said sorry to everyone, do you want to kill him? He has got his punishment. It's finished."
Suarez's absence for almost a sixth of next season will be a major blow to Liverpool, who will be desperate to challenge at the top of the table once more.
This season's title race was a disappointment after the drama of last term, with United wrapping things up last Monday a month before the end of the campaign.
Only City mounted anything like a challenge, and Mancini has called on the other Premier League powers to ensure it is more of a contest next season.
The Italian said: "I'm sure we will (be better) because we made some mistakes this season but we showed when we played United that we are like them.
"We need to change our mentality in some situations. When we play games that we think are easy, if you don't play 100 per cent and don't defend or attack well and play a strong game - we lost games against Sunderland, Southampton, we didn't win against QPR and West Ham and Chelsea, games where we lost stupid points where we could win.
"I hope that next season all the teams can be improved and all the other teams will be better than this year and five or six teams will play for the title.
"In the last two years, only us and United play for the title. I hope that next season it will be Chelsea, Liverpool, Tottenham and Arsenal, that would be better for the championship."
City's focus will also be on performing much better in the Champions League after two group-stage exits.
The Bundesliga took centre stage this week as Bayern Munich and Borussia Dortmund put four past Barcelona and Real Madrid respectively, but Mancini does not believe there is a gulf in class.
He said: "There are some moments where some teams like Bayern and Borussia play very well and play fantastic football and maybe next year they will not play like that in the crucial moment.
"I don't think that Real are worse than Borussia but Borussia deserved to win.
"It's one game. It's not one season. Why can't we beat Bayern or Borussia next season? Last season Dortmund went out in the Champions League group stage."