Sir Alex Ferguson still can't get head around Eric Cantona's nine-month ban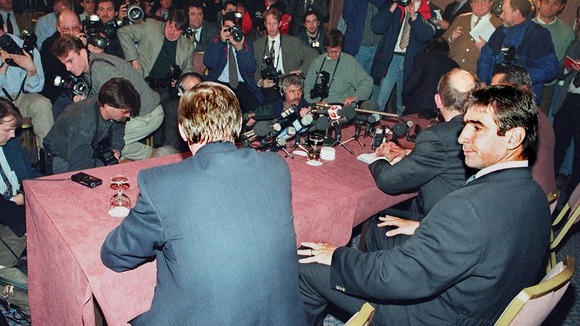 Sir Alex Ferguson believes Liverpool were wise not to try to head off a lengthy ban for Luis Suarez by imposing one of their own - having vowed Manchester United would never do it again either.
Ferguson claimed he could understand why Liverpool are aggrieved at the punishment handed down to Suarez for biting Branislav Ivanovic at Anfield last weekend.
However, the United boss does not think the penalty even comes close to the harsh manner in which Eric Cantona was treated by the Football Association in 1995 following his kung-fu kick on Matthew Simmons after being sent off at Crystal Palace.
At the end of his court hearing, United, following guidance received from the FA, suspended Cantona for the remainder of the season - a period of four months - believing that would be the end of the matter.
Instead, the FA launched its own action, and increased Cantona's ban to eight months.
So incensed was the Frenchman by this, he threatened to quit English football completely, and Ferguson needed all his powers of persuasion to talk him out of it.
But the United boss has never forgotten.
And should he ever find himself in the middle of a similarly complicated row, he will not be doing the FA's bidding, with then spokesman and eventual executive director David Davies coming in for particular criticism.
"I bet they are glad they didn't (suspend Suarez themselves)," Ferguson said. "It didn't work for us.
"David Davies promised us if we did it there would be no more action taken.
"Think about that. A nine-month ban. It is quite incredible. I still can't get my head round it."