Laudrup backs Bale for Player of the Year award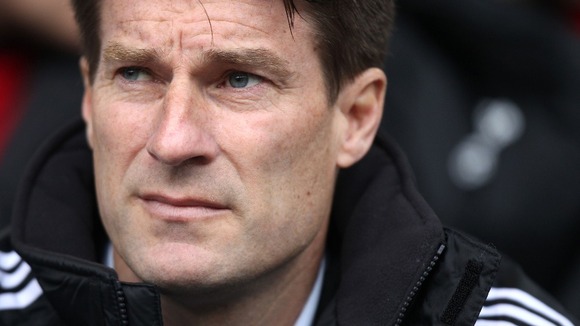 Michael Laudrup is backing Gareth Bale to pick up the Professional Footballers' Association Player of the Year Award on Sunday, but remains mystified as to how the man he views as the best signing in years failed to get on the shortlist.
The Tottenham winger is joined on the shortlist by Manchester United's Robin van Persie and Michael Carrick, Chelsea's Juan Mata and Eden Hazard, plus controversial Liverpool striker Luis Suarez.
But Bale is the favourite to scoop the main prize in London after a stunning campaign which has seen him rack up 24 goals and put Andre Villas-Boas' side in contention for Champions League qualification.
Swansea manager Laudrup, who was no stranger to individual accolades during his illustrious playing career, believes the Wales international would be the most worthy recipient.
"It's not easy to pick the player of the year," he said. "Do you pick someone who has won something? Or do you take one who is so important for their team?
"If you want to take one from the champions, it would Van Persie - he's the top scorer.
"But then Bale and Suarez have maybe been more important to their teams and where Liverpool and Tottenham are right now.
"It's difficult. Liverpool are not going to qualify for Europe, so I would go for Bale.
"It is true Spurs have not won anything, but I think he's a fantastic player who has had a fantastic season."
A few eyebrows were raised when Michu's name was not included on the shortlist for the PFA prize.
The Spaniard has scored 21 goals during a stunning first season with Swansea, helping them to win the Capital One Cup and spend the majority of the season in the top 10 in the Premier League.
Laudrup refused to openly criticise Michu's omission, but praised the impact of the man he signed for a bargain fee of just over £2million last summer.
"It's true every manager wants their player nominated but basically it's all from big clubs and that's very often what you see," he said.
"I don't know what's right or wrong, but I think we can all agree Michu has been outstanding this season - much more so than anybody expected and he has won a trophy too.
"He has not been nominated but I think we all recognise how important he is for our team, and everybody in football now recognises that maybe he has been the best buy for many, many years. There is so much quality there with him."
But Laudrup was critical of the timing of the awards, believing they should not be decided until the conclusion of the season.
"We don't know what can happen with five games to go," he said.
"What happens if Tottenham lose a couple of games and finish fifth?
"You can't give awards away when things are not finished because things can change in two weeks in football.
"All we know is Manchester United are champions and Swansea won the League Cup.
"You can't ask someone pick the best player or manager when there are still things to be sorted.
"There are still so many ifs and buts. Who is going to win the FA Cup? Who will qualify for the Champions League? Will Chelsea win anything?
"Bale has had a huge impact on the season but for me it would be a world of difference if Spurs don't make the Champions League."