Granero willing to stay at QPR and play in the Championship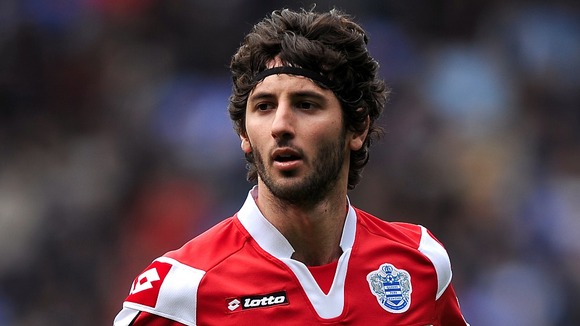 Esteban Granero today hinted that he would be willing to play in the npower Championship with QPR next season.
Rangers completed what they thought was a big coup last summer when they beat a host of top European clubs to sign Granero from Real Madrid for £9million.
The 25-year-old, like many of his team-mates, has failed to impress this season and the west London club must now make a decision on his future following their relegation from the Barclays Premier League yesterday.
The Spaniard is likely to be the subject of interest from his homeland given that, until about a year ago, he was regarded as one of the country's brightest prospects.
But should QPR boss Harry Redknapp, who met with owner Tony Fernandes this morning, decide to keep Granero it appears that he is willing to remain at the club.
"I signed my contract here for four years," Granero said.
"I was not thinking about going to the Championship when I joined but that is the reality now.
"I like life in London. We now prepare for life next season. The club will have to decide, not me."
Granero was one of 12 new arrivals at Loftus Road last summer as Fernandes, and former manager Mark Hughes, sought to build a team capable of finishing in the top half of the table.
Park Ji-sung, Jose Bosingwa, and Julio Cesar were all brought in because of their experience playing at the highest level, but it was the likes of Jermaine Jenas and Ryan Nelsen - two free transfers from Tottenham - and Spurs loanee Andros Townsend, who stood out in what had otherwise been a hugely disappointing campaign.
Following their killer 0-0 draw at Reading yesterday, which also confirmed the Royals' relegation to the second tier of English football, Granero struggled to fathom how their season had gone so badly wrong.
"Many things have happened during the season and we have not been able to get over them," the former Spain Under-21 player said.
"It is hard to analyse. It is not just one thing that has gone wrong. It is many things together."
Redknapp, 66, insists that the prospect of visiting places like Burnley and Ipswich instead of Chelsea and Manchester United, does not faze him.
The former Spurs boss, who one year ago was the favourite to become the next England manager, has warned that earning promotion will not be easy, but Granero is more optimistic, providing that the right preparation is conducted this summer.
He added: "We hope we learn from that and next season we do it another way.
"It was difficult for us yesterday but let's finish the season properly for the fans. They have been outstanding for us this season and we have felt them behind us from the beginning."