Manchester United chief exec rejects talk of summer squad overhaul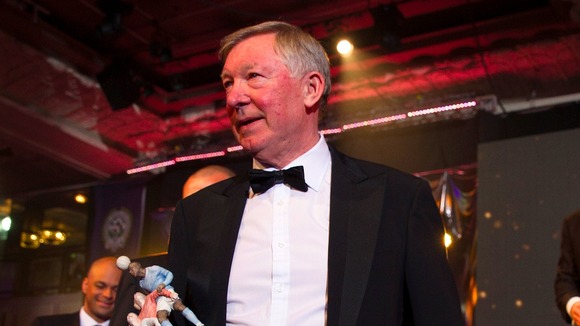 Sir Alex Ferguson has been told there is no need for "a major retooling" of his Premier League title-wining squad.
The Manchester United manager has already spoken of the plans he is putting in place ahead of an intended summer recruitment drive.
Last week, Ferguson even responded to questions about a link with Borussia Dortmund hit-man Robert Lewandowski by claiming he would always find room for quality additions to his squad.
However, speaking on a conference call to outline United's third-quarter results, Ed Woodward, who will replace David Gill as Red Devils chief executive in the summer, has claimed a massive spending spree is not necessary.
"I wouldn't expect there to be a major retooling of the squad," said Woodward.
"There is incredible depth. We could put two first teams out with 11 internationals in each.
"It has been a phenomenal season. We are a long way ahead in the Premier League and, whilst I wouldn't describe the way we got knocked out of the Champions League as luck, things could have gone differently in that game.
"We have a young squad and each of those are a year older. We are very comfortable with make up of team and squad."
Whilst there is no suggestion of tension between Woodward and Ferguson, it will be interesting to see how the dynamic works between the United manager and his new boss, a former investment banker who, at 40, is 31 years the Scot's junior.
Since he joined United in 2005, Woodward's efforts have mainly been concentrated around the finance side of the club, which included managing their vast debt and maximising income.
In that regard, he has been a major success.
However, from his base in London, it is difficult to see how Woodward can enjoy the closeness of the relationship Ferguson has had with Gill.
Nevertheless, Ferguson can feel bullish about having the finance to bring in top quality players given today's results show year-on-year turnover for the first nine months of the financial year has risen 13.1% to £278.1million.
It underlines just how strong United have become in that area of their business, and it doesn't include the new £120million, eight-year deal with AON, which includes naming rights to their Carrington training complex and sponsorship of their training kit and overseas tours.
Broadcast and matchday sectors increased 21.7% and 34% on the corresponding three months, whilst gross debt stands at £367.6million, still a vast sum but a decrease of 15.9% since June 30 last year.
However, total operating expenses for the third quarter increased 18.6% year-on-year to £79million.
That has been put down partly to the arrival of new signings, including Robin van Persie and Shinji Kagawa, improved contracts for younger members of Ferguson's squad, including Danny Welbeck, Jonny Evans and Rafael, plus the growing commercial arm which means the club now have in excess of 800 staff.
United also confirmed that completing the 100% purchase of the club's own TV channel, MUTV, cost them £2.7million.
Meanwhile, Ferguson insists he is not concerned at Welbeck's paltry goals return.
Welbeck has scored just twice for the Old Trafford outfit this season, and only once in the Premier League.
It is a remarkable statistic, particularly as he has got three for England, and a massive downturn from the 12 he netted last season.
Although plenty of critics have questioned whether Welbeck's inability to find the net on a regular basis should prevent him from being rated quite as highly as he obviously is, Ferguson has dismissed such talk.
In admitting his own decision to use Welbeck in a variety of roles, including to shut down Xabi Alonso during the second leg of that Champions League knock-out round clash with Real Madrid in preference to Wayne Rooney, has not helped the 22-year-old, Ferguson is still delighted with his progress.
"Last year he had 12 goals, this year he's only got two, so that's a big drop," Ferguson told Inside United.
"But that drop doesn't concern us because he still applies himself really well and still looks to score, still looks to get a chance and with that kind of courage he will eventually become a regular goalscorer.
"Maybe he doesn't appreciate us moving him around in various positions and we've maybe overused that because he is young.
"But his value to the club is there because I know he can do a job for me in any of those positions.
"It's a fantastic asset when you have a player who is as adaptable as that.
"But I think he will find his role through the middle once he gets that maturity and gets into a more consistent way of scoring."