Championship play-offs preview: Leicester v Watford, Brighton v Palace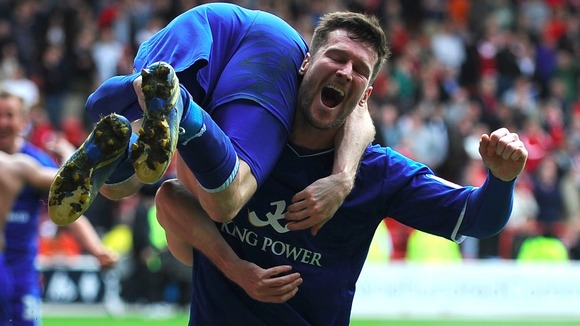 After the almost unbelievable drama of the last day of the Championship season, the four-club line-up for the promotion play-offs is finally complete.
Brighton were the only side guaranteed a play-off berth heading into the final round of matches. Crystal Palace joined them with a win over Peterborough and Leicester, out of form for so long, beat east midlands rivals Nottingham Forest to sneak in and take the last spot.
Watford, who had the chance to go up automatically but failed to score the goal they needed against Leeds, finished third.
Here, we look at the two clashes:
WATFORD (3rd) v LEICESTER (6th)
Watford's biggest challenge will be to shake off their last-day disappointment. Although third heading into the final day, they had a chance to go up when they had 15 minutes to score a winner against Leeds.
Debutant goalkeeper Jack Bonham made a costly injury-time error, though, killing their challenge when he allowed Ross McCormack's lob to creep in and win it for Leeds, sending Hull up in the process.
Leicester will perhaps count themselves more fortunate than anyone to be in the top six. Big-spending for two years, the Foxes looked certain to make it automatically at the turn of the year.
But in keeping with the season, Leicester, with barely a win to their name in 2013, found their form at the home of the biggest rivals, beating Nottingham Forest 3-2 for a first City Ground win since 1972 to just creep over the line.
BRIGHTON (4th) v CRYSTAL PALACE (5th)
Brighton went in to the last day with little happening other than playing for position within the four. They ended fourth and must now face arch-rivals Palace.
Ian Holloway's Eagles have spluttered their way through the run-in but found the win they needed today, seeing off Peterborough 3-2 to seal their place.