Hull City chairman Assem Allam proud of promotion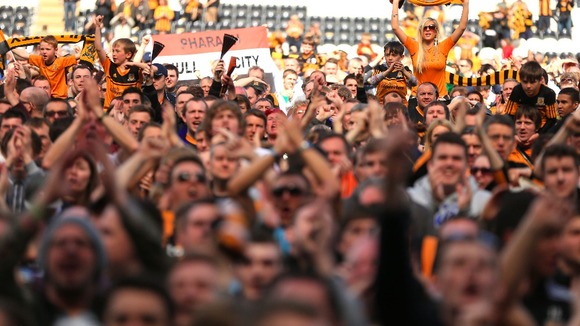 Hull chairman Assem Allam feels the club can be proud of what they have achieved since he took over two years ago, having moved out of administration to securing promotion to the Premier League.
The Tigers did it the hard way yesterday, grinding out a 2-2 draw against npower Championship title winners Cardiff and then having to wait around for Watford's delayed match against Leeds to finish.
But when news filtered through of a late winner for Leeds at Vicarage Road, the celebrations began in earnest at the KC Stadium with Allam and manager Steve Bruce leading the way.
And the Hull chairman feels they have much to be happy about, having come on a long journey since he took over in 2010 with the club just days away from being wound up.
"It was fantastic, one of the proudest days of my life," the Egyptian told BBC Radio 5 Live's Sportsweek programme.
"It was very stressful but at the same time, when we had four or five minutes left, Watford needed to score two goals to be promoted so that gave us a bit of comfort."
City return to the top flight after a three-year absence and Allam revealed it has come at a personal cost, but one he feels was necessary.
"Not only has the club been promoted but we've come through administration," he said.
"I bought the club in December 2010 four days before the winding up, so it was a case of saving the club, And in two and a half years of my ownership, we've gone from what would have been bankruptcy to the Premier League.
"To save the club from bankruptcy is what I call dead money, money I would have saved by waiting four days to buy the club from the receivers.
"I would have saved £27million in money owed to the taxman, who enforced the winding-up order, and two banks.
"But then the club would have lost 10 points, they would have been relegated and this would have cost more and I didn't want this, for the community to be deprived of good quality football.
"So I signed a contract knowing that I'm throwing away £27million for the sake of staying in the Championship."
The Tigers will now be mixing it up once more with the likes of Manchester United, Arsenal and Chelsea, but Allam admits they have not even thought about next season yet or how much investment will be made in the squad.
"It's very difficult to give you an amount (to invest) because we - the manager Steve Bruce, myself and the chief executive - have been very busy concentrating on achieving what we wanted to achieve this season.
"So we will start discussing that next week with the manager, and the team and Hull City and we'll start looking at what to do next year."