Real Madrid 'institution' Iker Casillas deserves more respect – Pepe chides Mourinho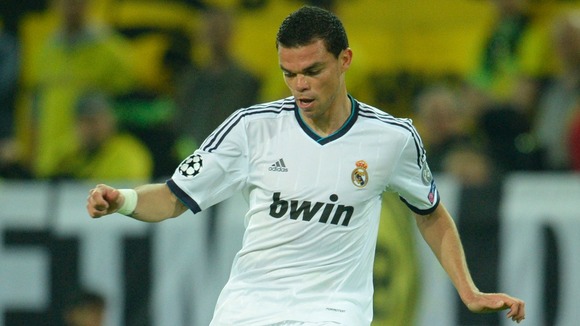 Real Madrid defender Pepe has told coach Jose Mourinho to show national "institution" Iker Casillas more respect.
Mourinho caused a stir when he dropped the Spain captain before Christmas and the Portuguese has now come under the spotlight for comments he made regarding the long-serving custodian's goalkeeping rival Diego Lopez yesterday, which appeared to slight Casillas.
Mourinho said he wished he had signed Lopez, who has kept the 31-year-old Casillas on the sidelines with a string of impressive performances since joining Madrid earlier this year, following his first season in charge.
Asked about those comments after tonight's 4-3 win over Real Valladolid at the Bernabeu, Pepe told Canal Plus: "There needs to be a little more respect to Iker.
"Iker is well loved. What the coach said was not the most appropriate. Iker is a player who is part of Madrid. He's an institution, both in this club and in Spain."
The Portugal international added in the mixed zone: "Iker is an important player for us. We have the final of the Copa del Rey ahead of us. We want to give a title to our fans and I think every player is important at this moment.
"There's no need to undervalue anybody and even less Iker, who is a symbol here in Madrid. We have to respect everything he's done.
"He's important for the club, for us and for the fans as well."
Mourinho looks increasingly likely to leave Madrid this summer, with former club Chelsea a possible destination, although the 50-year-old insisted yesterday he had not yet made a decision about where he will be plying his trade next season.
Asked about his countryman's future tonight, Pepe admitted he too was in the dark.
The centre-back added: "We're calm. The coach has to resolve this with the club. We have to honour the shirt."
Madrid assistant coach Aitor Karanka, speaking in the post-match press conference in place of Mourinho, said of Pepe's comments: "I haven't heard what he said and if he said that, at no point has anyone been disrespected in the three years we've been working here and to disrespect one player would be to disrespect all twenty-five players.
"We have always chosen the 11 players we think will win. Status doesn't play a part here. A lack of respect would have been to not select a player that is playing well in favour of another. There is no lack of respect."