Manchester United fume at Chelsea players over sending-off of Rafael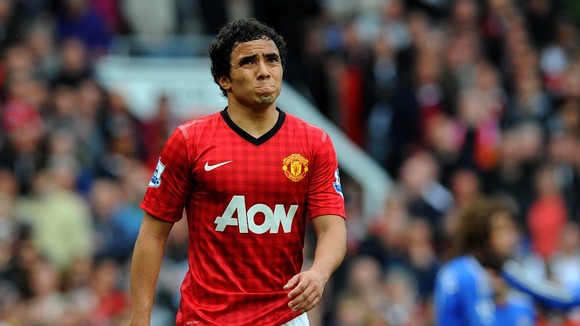 Manchester United manager Sir Alex Ferguson accused Chelsea defender David Luiz of engineering the sending off of Rafael in yesterday's 1-0 defeat at Old Trafford.
Rafael became the first United player to be sent off this season after a clash with his compatriot shortly after Juan Mata had given Chelsea the lead with a shot which deflected off Phil Jones.
The two South Americans clashed by the corner flag, with Ferguson claiming Luiz had aimed an elbow at Rafael before the full-back responded by clattering through the back of his compatriot.
Referee Howard Webb wasted no time in brandishing the red card which will mean an automatic three-match ban for Rafael that has effectively ended his season.
But Ferguson was keen to highlight the role of the Chelsea man in the incident.
''Luiz has actually elbowed him twice,'' said Ferguson.
''It is quite clear on the camera.
''Whether the referee will do anything about it I doubt very much, Howard Webb won't be bothering himself about that.
''Rafael was certainly elbowed, but you know what happens when a player retaliates. He gets punished the most. That is what happened.''
United defender Jonny Evans confirmed Luiz's apparent elbow was the talk of the home dressing room afterwards, although he conceded Rafael had ''lost his head a little bit''.
However, what infuriated the hosts almost as much was the reaction of the Chelsea players afterwards.
Ryan Giggs was fuming at Oscar for waving an imaginary red card, which sparked a melee between the two sets of players.
In addition, Luiz was pictured rolling about, seemingly in agony, but in actuality with a broad grin on his face.
That did not impress Ferguson much either.
''I haven't seen it but it is bad isn't it? It's not very professional,'' he said.
''He (Luiz) rolled about. You see that a lot with foreign players.
''He did roll about and made it look worse.
''To be honest, I don't think the referee has seen it. He has been convinced by Luiz's reaction.''
Interim Chelsea coach Rafael Benitez claimed not to have seen the incident, and doesn't particularly care.
''I am not very interested,'' he said.
''I have seen 200 incidents in the Premier League this year and it will change nothing.''