Bundesliga review: Dortmund and Bayern draw in dress rehearsal for Champions League final
by Ben Loder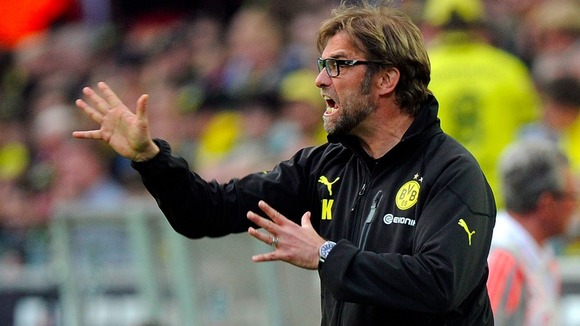 Borussia Dortmund and Bayern Munich played out a feisty dress rehearsal for this season's Champions League final on Saturday, but the 1-1 draw offered few clues as to how the big night will turn out, with several of the star performers on both sides rested.
Rafinha was one of the replacements, but he was sent off after 65 minutes for thrusting an elbow at Jakub Blaszczykowski, a scene that also caused tempers to flare between the black-and-yellows' boss Jurgen Klopp and ex-Dortmunder Matthias Sammer, now on the payroll in Munich.
Afterwards, the pair were quick to play down suggestions of an aggressive undercurrent that could mar the Wembley showpiece.
"I don't think the focus should be on me and Matthias Sammer during the final. And I, for one, will avoid it," said the ever-mischievous Klopp.
It was a decisive weekend in the race for Europe. Julian Draxler's late winner in Moenchengladbach on Friday ensured Europa League football at least for Schalke next year, and also made them strong favourites for a place in the Champions League qualifying round.
But that might still not be enough to earn interim coach Jens Keller a permanent spot in the dugout, with former Bayern midfielder Stefan Effenberg the tabloids' latest favourite to take over in summer, despite having no experience in the role.
Meanwhile, Eintracht Frankfurt and SC Freiburg also went along way to securing their places in continental competition, with home wins against Fortuna Düsseldorf and FC Augsburg respectively.
The Freiburg side will look very different by the time Europa League football arrives, however: top scorer Max Kruse is one of several players who have already agreed to join new clubs in summer.
Nevertheless, manager of the year Christian Streich has gone against the grain and signed a new contract with the Black Forest side.
"People say we are schooling players for their next club – that's true! What could be better for a teacher than to see his boys come so far that they don't need him any more? New, talented players will come in," said the 47-year-old, who has signed up for another season.
With those defeats for Düsseldorf and Augsburg, Werder Bremen would have looked safe with a win against Hoffenheim, but the final five minutes were a microcosm of Werder's season: two late goals conceded, a 2-2 draw, and two vital points thrown away.
"Perhaps we thought the game was over too early," admitted defender Sebastian Proedl. If they can avoid making the same mistake against Frankfurt next week, they could be safe – relegation rivals Augsburg face a daunting trip to play the recently crowned champions at the Allianz Arena.