Key battles: Chelsea v Tottenham Hotspur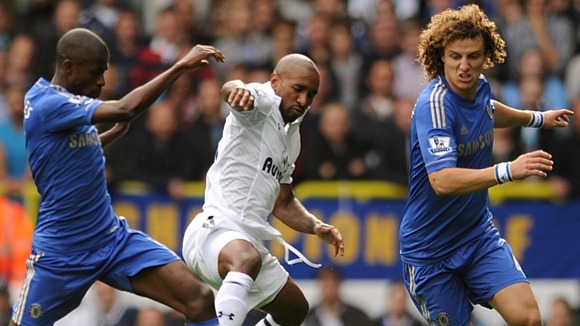 Chelsea and Tottenham meet at Stamford Bridge tomorrow night as the battle for the Premier League top four nears a conclusion.
Victory for the Blues would all-but secure the 2012 Champions League winners a return to the tournament ahead of next week's Europa League final, while a Spurs triumph would take them above north London rivals Arsenal with two games to play.
Here, we look at the key contests.
FERNANDO TORRES v MICHAEL DAWSON
A first Premier League goal of 2013 - his most recent was against Aston Villa on December 23 - would be timely for Torres, who has found form in the Europa League with five goals in five games.
Dawson has impressed since electing to stay and fight for his place under Andre Villas-Boas and will be tasked with shackling the Spaniard.
TORRES STATS
Goals: 7 (including one penalty) Assists: 9 Shots on target: 36 Shots off target: 19 Pass completion rate: 77 per cent
DAWSON STATS
Tackles won: 41 Tackles lost: 10 Defensive clearances: 32 Defensive blocks: 12 Fouls conceded: 12
CESAR AZPILICUETA v GARETH BALE
Spain right-back Azpilicueta has the unenviable task of trying to keep Welsh wing wizard Bale quiet.
The Professional Footballers' Association and Football Writers' Player of the Year has a knack of being in the right place at the right time and has been imperious in Spurs' bid for the top four this term.
Azpilicueta must have one of his best nights in Blue.
AZPILICUETA STATS
Assists: 6 Crosses: 60 Tackles won: 81 Tackles lost: 28 Fouls conceded: 19
BALE STATS
Goals: 20 Assists: 8 Shots on target: 88 Shots off target: 51 Crosses: 112
FRANK LAMPARD v TOM HUDDLESTONE
Lampard is chasing his club record-equalling 202nd Chelsea goal in what could be his final few weeks as a Blues player - his contract expires this summer and his fate could be determined by the new manager - and will be keen to reach the mark against Spurs.
Huddlestone, whose passing can dictate tempo, will also have a key defensive role.
LAMPARD STATS
Goals: 13 (5 penalties) Assists: 1 Shots on target: 41 Shots off target: 24 Pass completion rate: 84 per cent
HUDDLESTONE STATS
Assists: 4 Pass completion: 80 per cent Tackles won: 25 Tackles lost: 9 Fouls conceded: 8