Manchester United appoint David Moyes as manager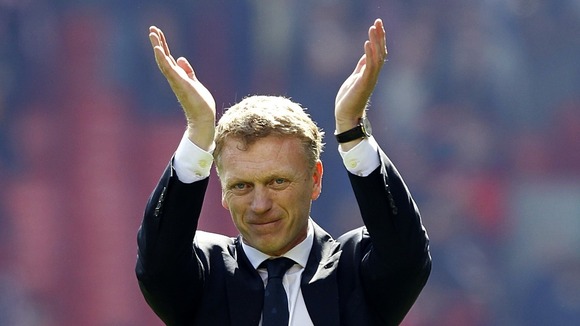 Manchester United have confirmed David Moyes as their new manager.
The 50-year-old has signed a six-year-contract with the Old Trafford outfit and will join officially on July 1 after completing the season with Everton.
Moyes has the backing of Sir Alex Ferguson, who confirmed his retirement on Wednesday, and his first official game will be the Community Shield against either Manchester City or Wigan at Wembley on August 11.
Moyes said: "It's a great honour to be asked to be the next manager of Manchester United.
"I am delighted that Sir Alex saw fit to recommend me for the job. I have great respect for everything he has done and for the football club.
"I know how hard it will be to follow the best manager ever, but the opportunity to manage Manchester United isn't something that comes around very often and I'm really looking forward to taking up the post next season."
Ferguson said about Moyes: "When we discussed the candidates that we felt had the right attributes we unanimously agreed on David Moyes. David is a man of great integrity with a strong work ethic. I've admired his work for a long time and approached him as far back as 1998 to discuss the position of Assistant Manager here. He was a young man then at the start of his career and has since gone on to do a magnificent job at Everton. There is no question he has all the qualities we expect of a manager at this Club."
Moyes will get his first taste of what a global club United are in July, when he heads to Thailand, Australia, Japan and Hong Kong on their summer tour.
Before that he will sit down with new chief executive Ed Woodward to discuss future plans.
"The search for a new manager has been very short," said co-chairman Avie Glazer.
"Alex was very clear with his recommendation and we are delighted that David has agreed to accept the job.
"He comes to us with excellent credentials and a strong track record.
"I know he is keen to get started and Ed will be sitting down with him as soon as the season is over to discuss plans for the summer and beyond."
Fellow co-chairman Joel Glazer added: "I am very pleased David has agreed to lead Manchester United into the future.
"His hard-working style and steely determination are characteristics we value.
"He has impressed as a coach for many years now and we strongly believe he will be able to take up from where Alex is leaving off by continuing this club's tradition of flair football played by exciting, world-class players."