Mancini left to rue failed Balotelli experiment
by Will Unwin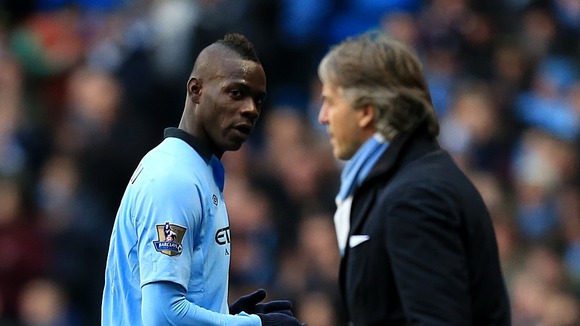 When the inevitable happened and Roberto Mancini was sacked, no one was surprised, apart from a few staunch Manchester City supporters.
The Italian's demise was orchestrated by chief executive Ferran Soriano and director of football Txiki Begiristain over a number of months, and the final blow came down just two days after a mediocre FA Cup Final loss to Wigan.
His departure bordered on farcical thanks to City being a sieve for information, but unfortunately that is just how modern football works, and the method of Mancini's removal isn't up for debate here.
After three and a half years as manager at Eastlands, Mancini had seemingly taken his expensively assembled squad as far as he could, not because there wasn't extra potential within the ranks, but because the players had lost the motivation to perform for the man who led them to their first Premier League title.
This season had been a collection of Jekyll and Hyde performances, which saw the club finish a distant second behind arch rivals United in the league, and dumped out of Europe unceremoniously before Christmas, which was a key factor in Mancini's departure, as City's hierarchy became frustrated by failures on the continent.
Saturday's defeat at Wembley, to a side destined for relegation, summed up the disappointment suffered after the greatest season in the club's recent history. This year was made for City to kick on and become the dominant force in English football, but instead they have regressed, if only slightly.
However, as is beginning to emerge only now, by the end of his reign Mancini's relationships with the majority of the club's staff - particularly his totally unmotivated squad - had collapsed.
Central to this was his handling of star forward Mario Balotelli. City's two-and-a-half-year experiment with the maverick Italian international was finally adjudged a failure in January, and the striker was shipped off to AC Milan. The whole Balotelli enterprise now looks like coming back to bite Mancini.
When the Italian brought his beloved Balotelli to Manchester, he saw it as his chance to possess one of the best players in Europe. Instead years of indifferent performances and bizarre behaviour saw the forward deemed uncontrollable by his manager. Mancini cut his losses and sent Balotelli back to Italy, where he has gone on to score 11 goals in as many starts, proving what a run of games can do to focus his mind – a privilege he never enjoyed at City.
His inability to get the best out of his most controversial signing will haunt Mancini, not just for having lost such a talent, but also for the way Balotelli's presence in the Etihad dressing-room affected the rest of the team. Other squad members became irritated by the special treatment shown to Balotelli, even as the forward's form stuttered. This feeling of resentment around the training ground never seemed to be resolved, and were only compounded by Mancini's idiosyncratic man-management style.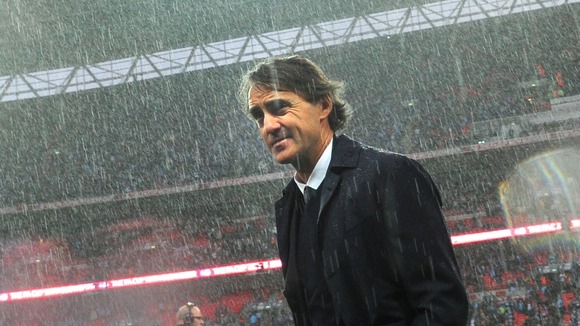 Compare Mancini's relative charity towards Balotelli with the way he handled other members of the City squad. Of City's first-teamers, Samir Nasri, a player who needs constant reassurance, was one in particular who went AWOL for long periods on the pitch. After a rare decent performance from the Frenchman this season, Mancini said: "I would like to give him a punch. Because a player like him should play like today always." The quote angered Nasri, who blamed the manager's poor English for this statement.
Mancini's gamble on Balotelli was one of the few incomings that the Italian was personally allowed, and when it failed to pay off the club were wary of giving him too much control over the purse strings. Hence, cheaper alternatives were found to the players Mancini actually desired.
New summer recruits Javi Garcia and Scott Sinclair - who arrived instead of Mancini's stated targets Javi Martinez and Daniele De Rossi - were signed and almost immediately discarded. They were two admittedly average signings who were given no opportunity to make an impact at the club. The pair have looked completely out of their depth at the top level, something that can be easily blamed on football administrator Brian Marwood, who has since been pushed sideways, but Mancini hardly helped their cause.
Other players who did not feature in Mancini's plans were cast aside, with Roque Santa Cruz and Wayne Bridge both being put out to pasture at Carrington, before being loaned out. Once again, this didn't go down well with team-mates, who felt sorry for the pair, not just friends but also players widely regarded as model professionals.
And then there was the youth team. Mancini has had little time for City's young players, even using the under-21s as a place to let his substandard sons, Andrea and Filippo reside.
Mancini arrived with the club's youth academy being the benchmark for others, but since 2009 few have graduated from the under-18s, with many being forced to seek employment elsewhere, and the others languishing in age group teams not fit for purpose.
If the club are to fall into line with FFP regulations, they will be hoping that the 'La Masia' style academy they hope to build will be able to provide some top quality additions to their expensive stars, with a lot being invested in a new training complex, and the acquisition of young foreigners. It is hoped, with time, that City can grow from within, rather than having to top up the squad with the likes of Maicon.
Despite a lacklustre season, the majority of City fans supported their most successful manager of all time, as they refused to blame the club's breakdown on Mancini, but even with their boisterous songs, the writing was on the wall, with Soriano & co. wanting to bring in their own man, who would take an interest in all areas of the club.
Manchester City maybe looking for a holistic approach to management, but first they need to ensure the next incumbent is capable of controlling the egos within a dressing room of stars, before moving onto creating a 'one club' mentality. With Mancini's final months in charge being associated with a breakdown in communications with his superiors, strong relationships between the board and Carrington, will be necessary to give City the stability they crave.
Manuel Pellegrini will almost certainly be appointed in the coming weeks, maybe not realising how complex the job he is taking on will be, but he can be safe in the knowledge the decision to remove his predecessor was strongly justified.