Lampard reveals England regrets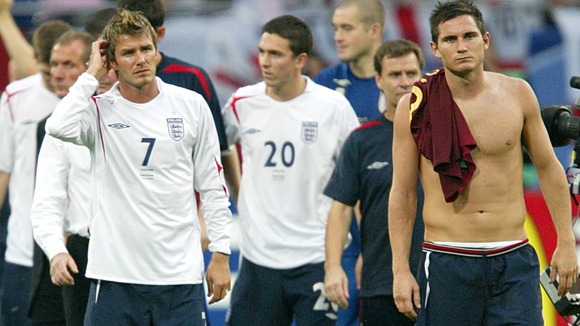 Frank Lampard has admitted England's so-called Golden Generation should have performed better at major international tournaments.
The 34-year-old has won every honour in club football with Chelsea, yet international silverware has eluded him despite 28 goals in 95 England appearances since his debut in 1999.
"We've all performed in the Premier League, Champions League," Lampard, who will be 35 in June but hopes to play on until the 2014 World Cup in Brazil, told TalkSPORT.
"As a group and individually, I'll hold my hands up and say at World Cups I haven't performed, certain England games I haven't performed.
"It certainly isn't for the want of trying. But when you look at the end and you go 'yes, I've ticked all those boxes', the international one, none of us have ticked."
Lampard has been at the heart of the group which has carried the nation's hopes for more than a decade, alongside Liverpool's Steven Gerrard.
Numerous critics have suggested Gerrard and Lampard, who share many similar characteristics, cannot play together, but the Chelsea man dismissed that, suggesting England's formation was a limiting factor at international level where midfields are packed.
"I think it's a myth," Lampard said.
"There was a lot of talk about Stevie coming to Chelsea years ago and I can't see that we wouldn't have been able to play together if we'd have been playing regularly.
"Going in and playing big tournaments at 4-4-2 at times, it's not easy in midfield, when you're outnumbered, because you're not getting outnumbered against mugs, you're outnumbered against top players."
Lampard has at times had to cope with vitriol from England supporters which made him unhappy.
He received a wake-up call when he spoke to his father, Frank Lampard Snr, when at a low ebb as Steve McClaren's reign as England boss was coming to an end.
His father told him to enjoy an opportunity many would do anything to achieve and now Lampard enjoys the international game.
"For young players the pressure is so intense, the level up from playing for your club is huge," Lampard added.
"I've grown more in love with England as I've got older.
"When I was mid-England career and took a bit of stick, I didn't enjoy it.
"I don't think you can if you go to Wembley and get a bit of stick and go to World Cups and we weren't playing well. That's not me moaning about it, we didn't perform so it comes with the territory.
"As I've got older I think my appreciation of playing for my country has risen - it doesn't go on forever - and I really enjoy it at the minute."
Lampard hopes to play at the next World Cup alongside Arsenal's Jack Wilshere.
He said: "Wilshere's going to be a fantastic player, once he gets over the injuries this year. He is already a fantastic player, but I think he's going to be a complete world beater, I think personally.
"If I can pass a bit of experience on to them, play amongst them, then great."