The story of the season in quotes, pictures and videos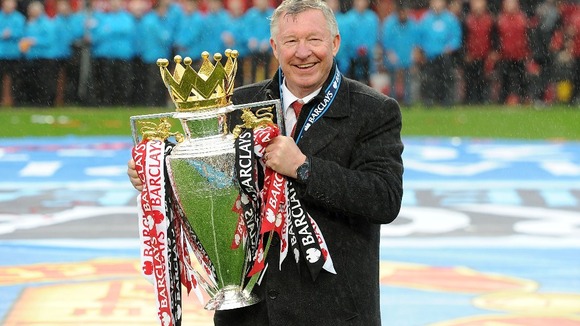 As the curtain comes down on yet another action-packed Barclays Premier League campaign, it is time to look back over some of the season's most memorable utterances.
STORY OF THE SEASON
"The decision to retire is one that I have thought a great deal about and one that I have not taken lightly. It is the right time."
Sir Alex Ferguson announces his decision to retire after 26 mostly glorious years as Manchester United manager.
"I am a director at United but I hardly do anything because we are winning all the time and it is all down to Sir Alex Ferguson."
Sir Bobby Charlton leads the tributes to Ferguson.
"When we discussed the candidates that we felt had the right attributes we unanimously agreed on David Moyes. There is no question he has all the qualities we expect of a manager at this club."
Ferguson endorses his successor David Moyes.
"I have to be honest and say no."
Moyes admits the prospect of moving to United, after 11 good years at Everton, was an opportunity he could not turn down.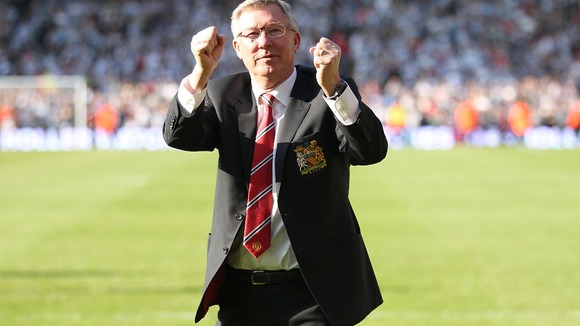 OTHER FAREWELLS
"Despite everyone's best efforts, the club has failed to achieve any of its stated targets this year, with the exception of qualification for next season's UEFA Champions League. This, combined with an identified need to develop a holistic approach to all aspects of football at the club, has meant that the decision has been taken to find a new manager for the 2013-14 season and beyond."
A year to the day after winning the Premier League, Roberto Mancini's exit from Manchester City is confirmed in a statement.
"The circumstances we find ourselves in have left the board of directors with very little choice but to make a change."
QPR statement announcing the end of Mark Hughes' reign as manager, after the club had collected just four points from their opening 12 games.
"The team's recent performances and results have not been good enough and the owner and the board felt that a change was necessary now to keep the club moving in the right direction as we head into a vitally important part of the season."
Chelsea statement. Just six months after winning the Champions League, Roberto di Matteo was deemed not good enough for the club.
"Sometimes people have looked at certain other things that have gone on throughout my career, sometimes that's overshadowed what I've done on the pitch. As much as I say that doesn't hurt me, of course it does. I'm a footballer that has played for some of the biggest clubs in the world, played with some of the best players in the world, played under some of the biggest and best managers and achieved almost everything in football."
David Beckham hopes to be remembered as a footballer rather than a celebrity after announcing the end of his glittering career.
"I don't think I have seen a referee get something like that before. I wasn't expecting it, not at all."
Referee Mark Halsey is overwhelmed by the ovation from Manchester City and Norwich fans and officials after his final match.
"I have been very fortunate in that my career has taken me on a journey I could only have dreamed of."
Former Liverpool, Real Madrid, Newcastle, Manchester United and England striker Michael Owen, after a frustrating final season at Stoke, announces his retirement.
Perhaps Michael Owen's greatest moment
"It has been a privilege and an honour to represent this great club for as long as I have."
Liverpool stalwart Jamie Carragher retires.
"I feel the FA, in pursuing charges against me where I have already been cleared in a court of law, have made my position with the national team untenable."
John Terry retires from international football ahead of a verdict from the FA which found him guilty of racial abuse.
"Newcastle got £35million for this player last year. Even to consider wanting to take him on loan is a liberty."
Liverpool manager Brendan Rodgers rules out a loan move for striker Andy Carroll, a week before he joined West Ham - on loan.
"It is a little embarrassing that I don't know what the future is for him."
Oldham chairman Simon Corney deflates the atmosphere after League One Oldham's stunning FA Cup defeat of Liverpool by questioning the future of manager Paul Dickov, who did leave before the next round.
"We are sad for this but this is football."
Mancini is clearly saddened by the departure of controversial striker Mario Balotelli from City.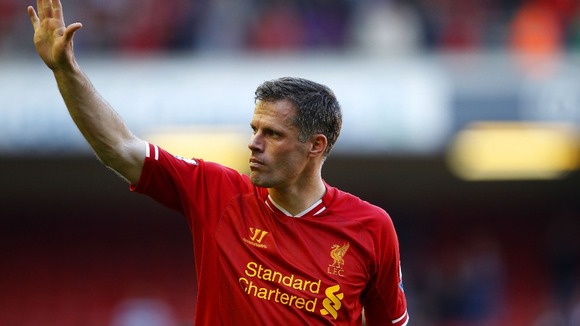 MORE NEW FACES
"When I have to make tough decisions in my life I listen to the little boy inside me. That little boy was screaming 'Manchester United'."
Robin Van Persie explains his decision to join Manchester United.
"I am not political, I do not affiliate myself to any organisation. I am not a racist and I do not support the ideology of fascism."
After three days of controversy sparked by the resignation of David Miliband as vice-chairman in protest, Sunderland's new manager Paolo di Canio distances himself from fascism.
"Chelsea is a big club with fantastic players, every manager wants to coach a such a big team. But I would never take that job, in respect for my former team at Liverpool, no matter what. For me there is only one club in England, and that's Liverpool."
A fabricated quote attributed to Rafael Benitez from 2007 which spread rapidly across the internet after his unpopular appointment as Chelsea interim manager. Few spotted the obvious flaw in the quote - concocted by a 15-year-old tweeter in the Czech Republic - that in 2007, Liverpool could not have been his "former team". He managed them from 2004-10.
"We're in the Premier League and we want to stay there. I am excited."
Nigel Adkins, sacked by Southampton despite successive promotions, voices confidence on taking over from Brian McDermott at Reading but is unable to prevent relegation.
"I want to be where I love to be, where people love me to be."
Jose Mourinho drops a broad hint he could return to Chelsea.
"I want to be where people love me" Mourinho hints he could stay at Chelsea.
GLORY
"Every one is special. Especially after the disappointment of last year, losing out on the last day, it is a great achievement by the lads."
Ryan Giggs celebrates his 13th Premier League title with Manchester United.
"Everyone wrote us off before the game, but we were following a dream. You cannot describe the feeling at the moment. My players faced adversity and played with a smile. I am so proud of them."
Wigan manager Roberto Martinez savours his side's stunning FA Cup final win.
"This is the first time this club has won anything and it is fantastic."
Manager Michael Laudrup reflects on Swansea's Capital One Cup final win over Bradford.
"This is one of the best moments of my career. Winning a European final like this is a dream."
Chelsea defender Branislav Ivanovic, who missed last year's Champions League final through suspension, enjoys his late headed winner in the Europa League final against Benfica.
"It is dreamland. The lads were absolutely fantastic and what it means for the club and the city is absolutely tremendous."
Manager Phil Parkinson after League Two Bradford stunned Aston Villa to reach the Capital One Cup final.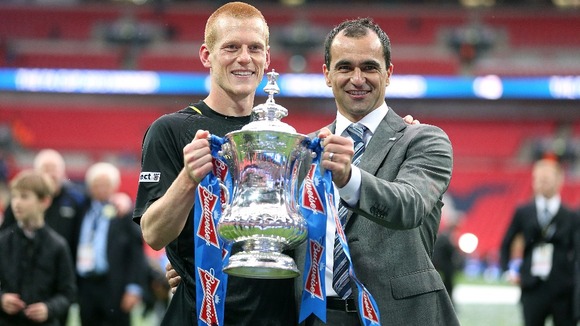 LOSERS
"We will win the title."
Roberto Mancini responds to his Manchester City's stuttering start to the season with a bold declaration that proved wide of the mark.
"We know that we can win the title next year. This year we did some mistakes but we can do nothing now. The season is gone."
Mancini, having changed his tune, looks ahead after his side win at Manchester United but with the title already gone.
"We had a good team and we got only three points - this is not good for us."
Mancini again, lamenting City's premature Champions League exit at the group stage.
"We will play the Europa League, so we are still in European competition and we can finish the year with a major trophy."
Chelsea goalkeeper Petr Cech puts a brave face on the holders' group stage Champions League elimination.
"Hopefully, we won't have too many days like that."
Brendan Rodgers after his Liverpool side's 3-0 loss to West Brom in their first game of the season.
"You have to give them credit for their class. In patches in the first half, it was a difference of quality in their display to ours."
Arsenal boss Arsene Wenger accepts his team were outplayed by Bayern Munich in the first leg of their Champions League last-16 clash, which they lost 3-1 at home.
"You don't normally get teams good enough to win the cup going down - that is why it is difficult to take."
Three days after winning the FA Cup, Wigan boss Roberto Martinez is brought crashing back to earth as his side are relegated.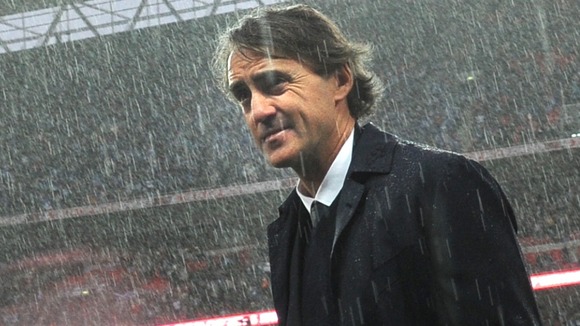 STAYING PUT
"I am feeling good, enjoying my football more than ever and, most importantly, I feel I am making a contribution to the team."
Ryan Giggs, aged 39, commits to another season - his 23rd - with Manchester United.
"I have made it clear from the start that I wanted to stay at Arsenal so I am pleased we have agreed a deal that everyone is happy with."
Theo Walcott finally ends months of speculation over his future by signing a new contract with Arsenal, worth a reputed £100,000 per week over three-and-a-half years.
"I work for 16 years in England and I think I deserve a bit more credit than wrong information, that has only one intention, which is to harm. The lie is targeted to hurt."
In a terse press conference, Arsene Wenger angrily reacts to speculation over his future at Arsenal.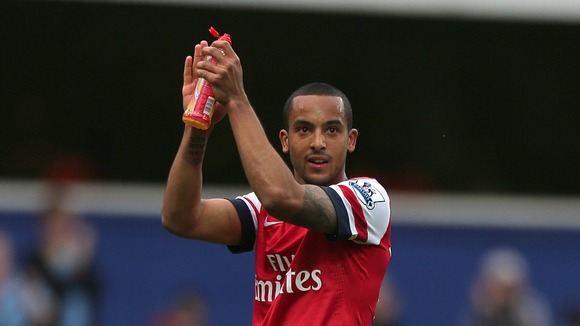 CAUGHT OUT
"I'm very disappointed that my travelling on the Tube and suggesting Rio's career is over to a passing punter has been recorded as it has."
England boss Roy Hodgson admits to an error of judgement after speaking to a fellow passenger on the London Underground about Rio Ferdinand.
"I was really upset and tweeted my feelings in the heat of the moment. I apologise unreservedly for my comment about the FA."
Ashley Cole backtracks after lashing out via Twitter at the FA after his evidence in the John Terry racism case was questioned.
"Peter has acted wholly unprofessionally. He must now accept the fact he remains under contract for a further 18 months."
West Brom chairman Jeremy Peace castigates striker Peter Odemwingie after he drove to QPR on transfer deadline day and told a TV reporter he was about to sign for the Londoners, even though no deal had been reached between the clubs.
"I've flown out for some pre-planned downtime... with a bit of punditry thrown in for a game I would have watched anyway."
Rio Ferdinand defends his decision to fly to Qatar to work as a TV pundit for an England international after rejecting a call-up to the team because of a "pre-planned programme" to manage his fitness.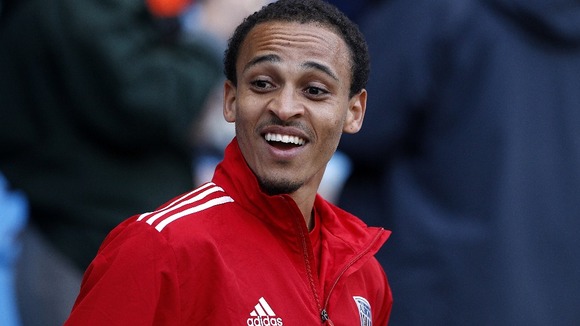 CLASHES
"We were playing a game and Mario kicked his team-mate. I told him, 'Go inside, leave the pitch'. He said no so I took his shirt and I pushed him off the pitch. There was no fight. The pictures made it look worse."
Manchester City boss Roberto Mancini tries to explain extraordinary pictures of him grappling with Mario Balotelli on the training ground.
"I would like to give him a punch, because a player like him should play like today always."
Mancini, who had previously criticised Samir Nasri for performing at "50 per cent" of his level, expresses frustration at a belated show of form from the Frenchman.
"I'm very disappointed because I said in the press conference that the players would be wearing it. It's embarrassing for me."
Manchester United boss Sir Alex Ferguson is not happy with Rio Ferdinand's decision not to wear the 'Kick it Out' anti-racism T-shirt, adding he will "deal with" the player.
"There's absolutely no issue between Wayne Rooney and me. He will be here next year."
Ferguson reacts to intense speculation over the future of Wayne Rooney by insisting he will not be leaving the club this summer.
"I'm not at Newcastle, a wee club in the north-east."
Ferguson hits back at criticism from Newcastle manager Alan Pardew.
"He could have killed the lad. It was a disgraceful act."
Ferguson is not happy after Swansea's Ashley Williams kicks the ball at Robin van Persie's head.
"I have told him that it is not acceptable and I won't accept that as a manager."
Everton boss David Moyes makes no excuses for Marouane Fellaini's headbutt on Stoke's Ryan Shawcross.
"I have big-name players who believe they're better than they are, who bang on my door insisting that I should play them. Well, they had their chance and they blew it."
QPR boss Harry Redknapp fumes after a humbling loss to MK Dons in the FA Cup.
"I've never trained a team harder. Then to pick up the papers this morning and read a story like that is disgusting."
MK Dons thrash QPR in the FA Cup
Redknapp hits out at the press after a story claiming his players treated a warm-weather training camp in Dubai like a "stag party".
"That's the first penalty we have had this season. I forgot to designate someone. I'm sorry, my mistake."
Swansea's Michael Laudrup accepts responsibility after the main talking point of his side's crushing win over Bradford in the Capital One Cup final was a row between Nathan Dyer, who was on a hat-trick, and Jonathan de Guzman over who should take a penalty.
"I was waiting at the beginning of the tunnel to shake hands and he just walked past me. Normally we shake hands. I was waiting to shake hands because I have education and I know there are a lot of people watching."
Chelsea interim manager Rafael Benitez fans flames of rivalry with Ferguson by accusing the Manchester United boss of lacking respect.
"I think that he is very concerned about his own CV."
Ferguson has a dig back at Benitez.
"They put my title 'interim manager' and I'll leave at the end of the season, so they don't need to waste time with me."
Benitez hits out at Chelsea for the title they gave him and the fans for continuing to voice their disapproval.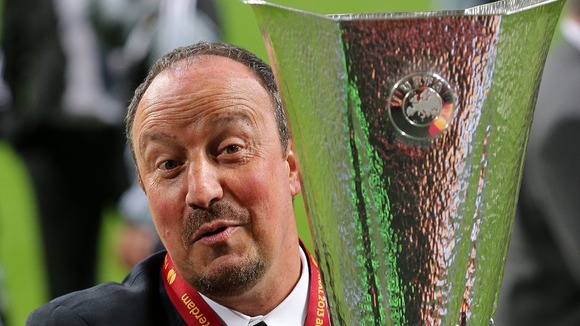 "Kids see the game and they want to see the good things and not the bad - I would apologise."
David Luiz calls on Sergio Aguero to say sorry after a nasty challenge on him in the FA Cup semi-final goes unpunished. A month later Luiz was at the centre of controversy when he was pictured smiling after going down in apparent agony following a red-card challenge by Manchester United's Rafael.
Aguero escaped action for this tackle on Luiz
REF PROBLEMS
"I don't believe Mark Clattenburg would make any comments like that. I refuse to believe it. I think it is unthinkable in the modern climate."
Sir Alex Ferguson defends referee Clattenburg after he is accused of making a racial slur towards a Chelsea player in a game against Manchester United. Clattenburg was later cleared.
"He had a very poor game. We have got that history with him."
Ferguson is far from happy with assistant referee Simon Beck after a 1-1 draw at Tottenham, and proceeds to drag up an incident involving Chelsea's Didier Drogba three years earlier.
"The manager is not in fit state to talk to the referee about the decision."
Manchester United assistant manager Mike Phelan fills in for Ferguson after his side's controversial Champions League loss to Real Madrid, in which Nani was sent off.
"I've lost a game in the last minute to what I think is a handball and also got a boy going to hospital. The diagnosis will not be good because the tackle was so bad."
Newcastle boss Alan Pardew fumes after a defeat by Wigan overshadowed by an unpunished horror tackle on Massadio Haidara by Callum McManaman.
STUNNERS
"He's scored one of the best goals I've ever seen. Ibrahimovic's performance was certainly world-class. It was his night."
England captain Steven Gerrard salutes Zlatan Ibrahimovic's four-goal performance for Sweden against his side, which included an outrageous overhead kick.
"It was a great ball from Wayne, so the only thing I had to do was guide it right and hit it properly and it went in great but more important was the result."
Robin van Persie reflects on the stunning second goal of a first-half hat-trick against Aston Villa which saw Manchester United clinch the title.
Zlatan Ibrahimovic scores a stunning goal against England.
CONTROVERSY
"It feels like it has been stolen from us."
Mansfield chief executive Carolyn Radford complains after Luis Suarez handballs in the build-up to his goal in Liverpool's FA Cup win at Field Mill.
"It was wrong to say what he said. It was not acceptable."
Liverpool manager Brendan Rodgers is not happy after Suarez appears to admit to diving.
"I am deeply sorry for my inexcusable behaviour earlier today during our match against Chelsea."
Suarez apologises for the bite on Branislav Ivanovic which earned him a 10-game ban.
"The king of all ball boys is back making his final appearance #needed #for #timewasting."
A tweet from Swansea ball boy Charlie Morgan prior the Welsh side's Capital One Cup semi-final second leg against Chelsea. He was at the centre of a storm late in the match after being kicked by Eden Hazard while he held onto the ball.
Roy has fun in the Warsaw rain
CONFUSION
"This is Monty Python. Both sets of supporters are being treated disgracefully. If I were a fan I'd be booing."
Former England manager Graham Taylor, working as a pundit, is staggered as the national side's World Cup qualifier against Poland in Warsaw is postponed due to a waterlogged pitch - after stadium officials opted not to close the roof.
SHAME
"It was quite disgraceful. The scenes at the end were very sad. I'm very proud of the way my players behaved under extreme provocation."
England Under-21 head coach Stuart Pearce was saddened after his side's achievement in reaching the European Championship finals was overshadowed by a violent brawl between players and coaches and racist chanting in Serbia.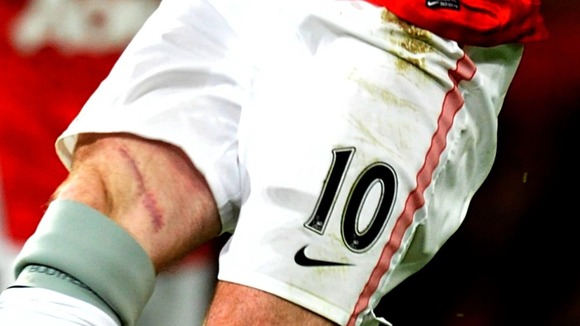 GRUESOME
"I was quite lucky it didn't cut my muscle. I was told it was just one millimetre away from severing an artery."
Manchester United's Wayne Rooney suffers a horrific injury in challenge from Hugo Rodallega.
INJUSTICE
"I don't think there was a bad tackle in the game, was there?"
England captain Steven Gerrard suggests he was harshly treated after being sent off in the 1-1 World Cup qualifying draw in Ukraine.
FANS
"Robin showed his class, which is more than their fans did."
Manchester United's Rio Ferdinand speaks of the abuse aimed at team-mate Robin van Persie by Arsenal fans.
HONOUR
"Growing up, getting turned down at the FA's national school at 14, not getting picked for England under-15s. There were times when I thought I'd never even get one cap."
Steven Gerrard prepares to win his 100th England cap.
ON THE MOVE
"We have a vision that West Ham can compete at the highest level and today's decision offers us a platform to do this."
West Ham co-chairman David Sullivan after the club were granted the right to move into London's Olympic Stadium from 2016.