Bayern winger Arjen Robben has 'good feeling' about Champions League Final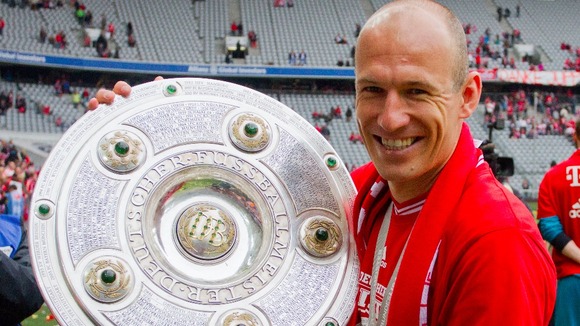 Arjen Robben is desperate to bring an end to his own Champions League curse when Bayern Munich play Borussia Dortmund in Saturday's final at Wembley.
The Dutchman, who is involved in his 11th straight season in the Champions League, has been on the losing side twice in the final in the past three seasons, while he also lost out in a World Cup final for Holland and the final of the DFB-Pokal last summer.
The disappointment of losing to Chelsea last May and Inter Milan two years previously is spurring him and his team-mates on to ensure it is a case of third time lucky at the weekend.
"Most of us were in the side which lost in 2010 and 2012 and that explains why so many of us are hungry for this title," he said in Munich today.
"We now want to win this title."
Bayern will go into the final as favourites having stormed to the Bundesliga title in record fashion.
They left Dortmund 25 points in their wake, smashing the points record the Westphalians had set last season by 10 and losing only once.
They also ended a five-game losing streak to Dortmund by beating them in the German Super Cup and the DFB-Pokal, as well as going unbeaten against Jurgen Klopp's men in the league with two 1-1 draws.
With that in mind, Robben says Bayern must go on to the field aware that they are stronger and without making any alterations to the way they have played all season.
"That's very important," he said.
"When we are on the field this week, we must not start doing things differently.
"We shouldn't go to bed earlier, eat differently. We just have to do precisely the same things we've been doing all season, because we were very successful.
"We're experienced and we know what's coming so we will prepare in a very normal way, as we have always done."
By sticking to the normal plan, Robben is convinced he will finally get his hands on the Champions League trophy on Saturday.
"We must not start thinking that we are not allowed to lose - if we did that, then we may as well give up already," he said.
"I have a good feeling. We are going to do it."