Dortmund defender Mats Hummels scoffs at Barcelona link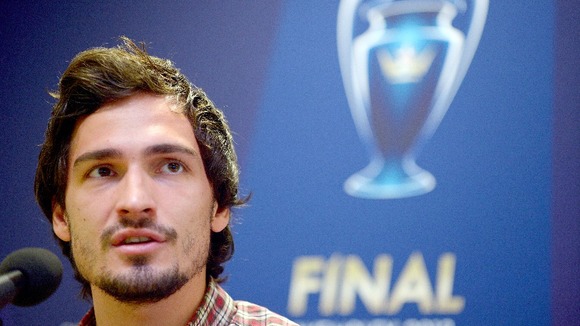 Borussia Dortmund defender Mats Hummels insists Saturday's Champions League final will not be his last game for the club.
The 24-year-old, who is fighting to shake off an ankle injury to allow him to face his former club Bayern Munich at Wembley, has been linked with a move to Barcelona and even back to Bayern in the summer.
However, he has pledged his future to Dortmund by telling Kicker magazine that he will still be wearing a yellow and black shirt next season.
"I've not had any contact with Barcelona or any other club," he said.
"I don't think it's my duty to dismiss rumours which other people invent.
"If there was to be any truth in them, I would say so. If I say that there is nothing behind the speculation, then people should believe me."
When asked whether Saturday will be his last game for Dortmund, Hummels replied: "Of course not."
Hummels joined Dortmund from Bayern in 2008 after making just a single appearance for the Bavarians, in the 5-2 win over Mainz on the final day of the 2006/07 season.
His initial loan spell with the Westphalians was made permanent in 2009 and he has been an almost ever-present since.
Meanwhile, former Dortmund and Bayern coach Ottmar Hitzfeld believes Jurgen Klopp will be the coach of Bayern at some point in the future.
Dortmund coach Klopp has built a strong reputation with the Westphalians, leading them to back-to-back Bundesliga titles and a place in Saturday's Champions League final.
His name is now being linked with every coaching vacancy at Europe's top clubs, and Hitzfeld, who led both Dortmund and Bayern to Champions League glory, expects Klopp to make the same move he made.
"I can imagine Klopp coaching Bayern at some point," he said.
"Bayern nearly always appoint the best German coach. Jurgen Klopp was incredibly successful with Mainz and he is now doing a great job with Dortmund."
Klopp was already close to becoming Bayern's coach when he left Mainz in 2008.
Before he became coach of Dortmund, he had already held talks with Bayern president Uli Hoeness, and reportedly reached an agreement until Bayern chairman Karl-Heinz Rummenigge vetoed the move and instead appointed Jurgen Klinsmann as coach.
"I let myself be convinced that we should try the adventure with Klinsmann," said Hoeness to the Suddeutsche Zeitung newspaper in 2011.
"I had already reached a verbal agreement with Klopp and I then had to go back on our word when we appointed Klinsmann.
"We now know how big a mistake that was."
Hitzfeld nevertheless believes it is a mistake they will not make again, should Klopp become available when his contract with Dortmund expires in 2016.
"He is a highly intelligent coach," said Hitzfeld to Sport1 television. "He lives for football and can set emotions free.
"He really motivates his team and sets them up perfectly tactically."
A move is not foreseeable in the near future, though, with Bayern appointing Pep Guardiola on a contract until 2016 from next season, but Klopp, who was already on Bayern's radar once, could still be there if the Spaniard is unable to successfully fill Jupp Heynckes' shoes next term.