Mario Gotze in fitness race for Champions League Final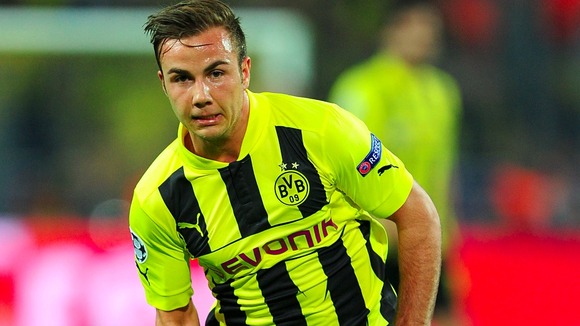 Borussia Dortmund's attacking midfielder Mario Gotze faces a race against time to be fit to face his future club Bayern Munich in the Champions League final.
Gotze, who has scored 19 goals this season - more than his last two campaigns combined - tore his hamstring during the second leg of the semi-final against Real Madrid and is still rated doubtful for Saturday's showpiece.
He started light training just over a week ago but followed an individual training regime today rather than the schedule Klopp laid out at a media open day last Wednesday.
"He should start team training at the start of the week and then hopefully everything will be fine and we can decide if he is ready or not," said Klopp.
A return to team training is not yet foreseeable, though, with only four days to go before the final against the club he will be joining in July after a 37million euros (£31.5million) transfer was agreed upon last month.
And Gotze is not Klopp's only concern with Mats Hummels, a man who switched between the two Bundesliga giants in the opposite direction in 2008, labouring with an ankle injury.
His chances of a recovery from an injury he picked up only on Saturday are significantly greater, though.
"Nothing is torn so it is not as bad as first feared," said Hummels to Sport Bild magazine.
"I'm confident I'll be ready for the final."
Even without Gotze, Bayern Munich legend Lothar Matthaus believes Dortmund have a good chance of triumphing at Wembley and denying his former club a historic treble this season.
Bayern won the Bundesliga in record-breaking style and face Stuttgart in the final of the DFB-Pokal on 1 June.
"The big question is whether he can play, but then the question is how fit he is," said Matthaus to Sky television.
"He has not played for the past three and a half weeks. I would say Mario cannot be 100% fit.
"If anything, then maybe he could take his place on the bench next to Jurgen Klopp because Dortmund are not reliant on Gotze.
"It would also be his last game for Borussia against his future club so it would not be easy for Mario Gotze and it would not be easy for Borussia Dortmund, and it would not be easy for Jurgen Klopp either."