Roma vow to find Mario Balotelli racial abusers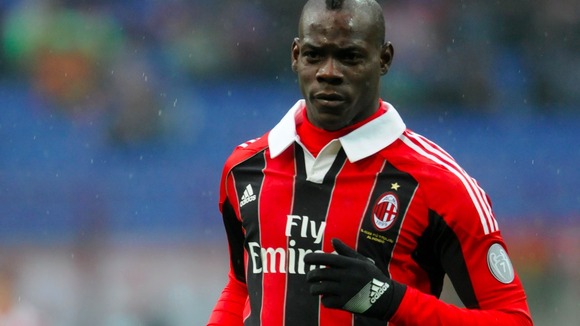 Roma have vowed to ban any supporters identifiable as responsible for the racial abuse of AC Milan striker Mario Balotelli.
Italy international Balotelli was targeted firstly by supporters of the capital club when Roma played Milan at the San Siro on May 12.
Roma fans targeted three Milan players and the club were fined 50,000 euros (£42,200) by the Lega Calcio, however that proved no deterrent for some supporters in the Serie A home match against Napoli two days ago.
Despite both teams donning T-shirts bearing anti-racism slogans before kick-off, several Roma supporters sang abusive songs about former Manchester City striker Balotelli when news filtered through that the Azzurri frontman had scored a penalty six minutes from time for Milan in a 2-1 win at Siena.
This time league officials announced the south stand - Curva Sud - of Roma's Stadio Olimpico would be closed to supporters for one Serie A game as punishment.
Roma responded with a forceful statement, saying: "What occurred Sunday night is appalling and unacceptable. AS Roma does not want those individuals responsible as fans.
"The actions of this small group are hateful and also hurt our club and our loyal law-abiding supporters.
"We have not yet received a detailed report from the League or Federation but will continue to work with them and law enforcement to ensure that everything possible is done to identify and ban those involved from football stadia."
The league's latest punishment was designed to directly target Roma's hardcore fans - or 'Ultras' - who are usually housed in the 8,486-capacity Curva Sud.
The stadium restriction does not apply to this Sunday's Coppa Italia final, in which Roma face their city rivals Lazio at the Olimpico, but to the first home Serie A match of the 2013-14 season.
Inter Milan, who lost 5-2 at home to Udinese on Sunday, were also fined 50,000 euros (£42,200) as a section of supporters sang racist songs about Balotelli in the 84th minute.