Bundesliga round-up
by Ben Loder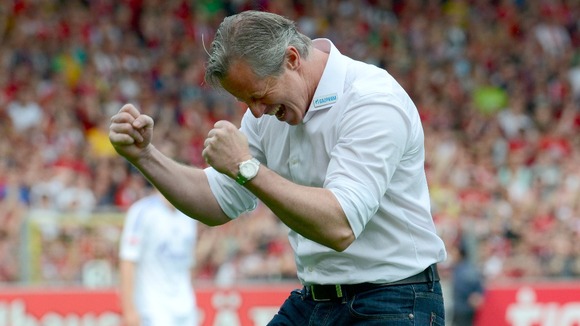 Schalke 04 won what was effectively a Champions League play-off against Freiburg on Saturday, thus achieving their minimum goal at the end of a turbulent season.
In contrast, even a Europa League place is a huge achievement for the Breisgau side managed by Christian Streich, who nevertheless felt they could have had more, he said: "The luckier team won today, not the better one."
Streich was also quick to talk down expectations for the coming campaign, stating: "Perhaps we'll make it into the Champions League next season. Then again, after rebuilding the team, perhaps we'll be relegated."
Hoffenheim stunned Dortmund to give themselves hope of survival with an incredible last 15 minutes that saw two converted penalties, a red card that forced BVB midfielder Kevin Großkreutz to play in goal, and a last-minute disallowed Dortmund goal that would have sent Hoffenheim down. The "village club" are not safe yet, however – they face a two-legged play-off against Kaiserslautern, who took third spot in the second division.
The jubilation in the stands got a little out of hand when Sejad Salihovic buried the match-winning penalty: "Someone knocked out my right incisor during the celebrations. It was worth it!" said Hoffenheim president Peter Hofmann.
For every winner, there's a loser, however, and Hoffenheim's win meant tears for Fortuna Düsseldorf. Even their 3-0 defeat in Hannover would have been enough to stay out of the second automatic relegation spot had Jürgen Klopp's side salvaged a point in their match. Promoted last season, Fortuna were as high as fifth after five matches this campaign, but captain Jens Langeneke was realistic at the final whistle, if a little frustrated that Dortmund had not helped them out: "When you lose 12 games in a row, you can't complain … but I now know who I'll be supporting in the Champions League final."
Back at the top end of the table, a 2-2 draw with Wolfsburg was enough to secure a place in the Europa League for Eintracht Frankfurt – the first side to achieve such a feat straight after promotion since Kaiserslautern 15 years ago. "This could be the start of a big future," claimed supervisory board chairman, Wilhelm Bender.
Finally, Bayern Munich will go into Saturday's Champions League final with the psychological edge – while Dortmund failed to win for the third league game in succession, the Bavarians recovered from a 3-1 deficit after just ten minutes to win 4-3 in Jupp Heynckes's last Bundesliga match. "I'd take a 4-3 win in the final," admitted Thomas Müller. That may be too much for neutrals to hope for, but a 0-0 between the two sides at Wembley seems unlikely.