Watford manager Gianfranco Zola hails trip to see former Barcelona boss Pep Guardiola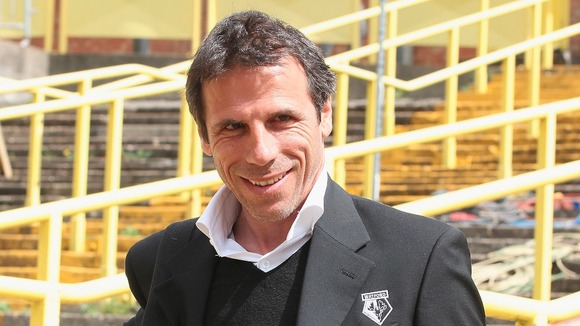 Gianfranco Zola has revealed that he sought the advice of Pep Guardiola as he plotted his way back in to Barclays Premier League management.
Zola's Watford take on Palace at Wembley on Monday afternoon for what has been dubbed "the biggest financial prize in football".
Should the Hornets overcome Palace in the npower Championship play-off final, Zola will have a second crack at managing in top flight just three years after he was sacked by West Ham.
The former Chelsea striker was greeted with open arms by West Ham fans in 2008, but despite a ninth-place finish in his first season at the helm, he was fired at the end of the following campaign after the team finished just above the relegation zone.
The sacking was hard to take for the 46-year-old, but after a trip to see Guardiola at Barcelona, and Zdenek Zeman, who worked wonders at Pescara before being snapped up by current club Roma, he soon felt he was ready to give management another go.
"It was hard for me personally because I always live the game very intensively, I always take my work him," said Zola of his sacking at Upton Park.
"It was tough. That's why I took time off. It was time to go back to basics, to go back to the books and do things that could help me with my managerial career.
"I watched a few teams that I was interested in. The first team was a Serie B team Pescara where Zeman was the manager. I like him and his style of football. I spent time with him and it was very good.
"Then I went to see Barcelona - another pretty good team! - and it was very inspirational.
"And it wasn't inspirational because of all the stuff they do on the pitch, it was also the way they conducted themselves, the players and managers. That impressed me very much. Very remarkable."
Given how Watford have performed this season in the Championship, it seems that Zola's sabbatical has been time well spent.
The Italian has managed to integrate a raft of foreign players - most of them on loan from Udinese - in to his squad and guide the club to within a whisker of automatic promotion.
Many West Ham fans felt owners David Gold and David Sullivan acted harshly when they axed Zola, but the Italian admits he probably lacked the experience to tackle the pressures of top-flight management.
"Sometimes in that experience I didn't give 100% of myself," he added.
"So I felt bad with myself. I could have done more.
"I didn't have the experience I have now.
"I should have put my ideas more across rather than going on a conservative way. I should have been more positive.
"But I believe that experience was very important because only through tough moments do you get better."
Zola now finds himself in charge of a team that will have made the Premier League one year ahead of schedule should they beat Palace.
The club's chairman Gino Pozzo certainly thought it doubtful that Watford would be in this position when he appointed Zola last summer.
"I have a (promotion) bonus in my contract," Zola added.
"It is incredibly high because they didn't believe me! But in life you have to gamble.
"In terms of a learning process for me as a manager I feel Watford is perfect."
"I knew something (about the Championship) when I took over, but not enough, that's why at the beginning I had a lot of doubts.
"I certainly didn't know what the managers in my league knew. And at the same time I didn't know my team - many players came at the last moment. But I really liked the challenge.
"For me, going straight into West Ham was the crazy stuff but I survived and now, in the second experience, I am doing better. "It doesn't mean I am a good manager yet but certainly I am at a better level than when I started."