Player profile - Matej Vydra, striker, Watford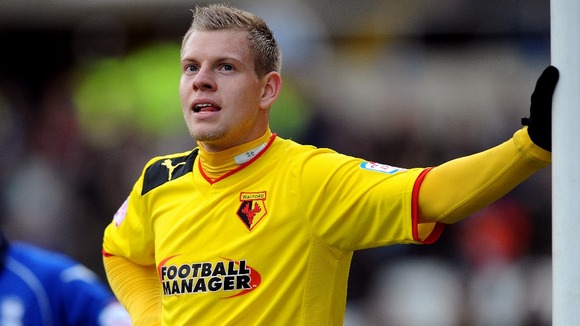 Name: Matej Vydra
Position: Striker
Born: 1992
Club: Watford (on loan from Udinese)
Nation: Czech Republic
Watford's loaning of everyone under the Udine sun has caused much controversy, but there's no arguing that it has benefited the club and players alike, with Matej Vydra improving over the campaign as he gets more and more games in the Championship.
The stand out figure for the Czech Republic international is that he has scored 20 goals since joining from Udinese last summer. His overall style, however, has also won him many plaudits in England, as the diminutive striker maintained his place in the side, despite not finding the back of the net for 13 games.
During his barren spell he was still a danger; he set up a collection of chances for Troy Deeney, who ended the season with 20 goals of his own, thanks to some consistenly intuitive play from Vydra.
He began his career in the Czech Republic with second division side Vysconia Jihlava, but was quickly snapped up by top-flight club Banik Ostrava, who sold him quickly onto Udinese after a brief spell in their first team, as he looked destined for greater things.
Despite being just 21 years of age, the former Banik Ostrava man has seven caps for Czech Republic, and scored twice in a 3-0 win over Armenia in March.
His goals and all round play have seen the Premier Leagues big names taken notice, with the striker being linked with moves to the likes of Spurs and Arsenal.
The Hornets have already begun the process of trying to make Vydra a permanent member of staff at Vicarage Road to avoid a transfer battle in the summer, but considering the striker is owned by Udinese - and by association the Pozzo family - it is likely Vydra will be staying in Hertfordshire.
Vydra will be closely watched by the prem clubs today, Udinese might keep him though, chance for him to boost his worth #playoffs
Would love to see Zola & Udinese B go up, play great football, Vydra & Deeney both very good, Chalobah looks a real prospect too