Ashley Cole will captain England against Republic of Ireland as he marks century of caps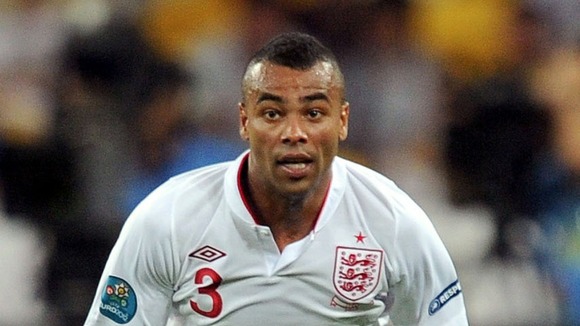 Ashley Cole will captain England against the Republic of Ireland tomorrow in celebration of his 100th cap.
However there was initial confusion over the defender's new role at today's announcement.
In the absence of regular captain Steven Gerrard, Chelsea midfielder Frank Lampard was expected to walk the players out at Wembley, only for manager Roy Hodgson to confirm Cole would "lead the team onto the field".
Thirty-two-year-old Cole will in fact skipper the side for the duration of the match, despite a rather puzzling unveiling from his manager.
Hodgson told Sky Sports News: "Frank's always been the captain in Steve's absence. I appointed him when I started over a year ago.
"But in actual fact tomorrow, Frank and I have discussed this and Frank's happy for Ashley to lead the team onto the field in celebration of his 100th cap, which he'll receive tomorrow.
"It's actually his 102nd appearance. Frank and I are happy that he will lead the team out there but Frank still remains the captain of the team."
Hodgson was later quizzed further and stated that Cole, and not Lampard, would captain the team throughout.
Lampard offered his take on why his long-time Chelsea colleague had been honoured with the armband.
He said: "Not only getting 100 caps, but the way he has performed over those 100 caps as the most consistent left-back probably in world football over such a long period of time, it's the perfect gesture and very much deserved."
England face Ireland on the international stage for the first time since a match was abandoned due to rioting at Lansdowne Road in 1995.
Hodgson this week helped to prepare a letter that was sent to all those fans holding a ticket for tomorrow night's match, urging supporters to refrain from indulging in provocative behaviour or chanting at Wembley.
"It's very important," he added. "It almost goes without saying that you want fans to respect the opposition and I'm hoping that (happens), because tomorrow night is such an important part of our (the Football Association's) Jubilee year and I hope our fans are going to come there and cheer us to a victory.
"I was very happy to send out the letter to try to make sure that the game is played in the right spirit as I know it will be on the field.
"I hope the fans, and the Irish fans, show the level of respect that we would expect for a game of this type.
"I'm looking forward to it very much. Not only have the Republic of Ireland got a fantastic record, but they've reached major tournaments and have shown they're a difficult team for any opponent.
"I think it's very fitting that we now play one of the other home nations and in Ireland we know we're going into the kind of quality game that will help us prepare for our important games in October."
Hodgson had no new information about striker Wayne Rooney's situation at Manchester United, where he had a transfer request rejected towards the end of the Barclays Premier League season.
The former Fulham and Liverpool manager admitted he had spoken to Rooney following training but that the player's focus had solely been on tomorrow night's game.
"It just so happened that we were both out of training early," he added.
"He's really anxious to play having missed the last couple of games for Manchester United, not least of all due to the birth of his new baby son.
"He's looking forward to the games and I hope he shows that on the night."