Top 5 transfer rumours - Top three tussle for £80m Gareth Bale, Tevez tipped for Real-City swap deal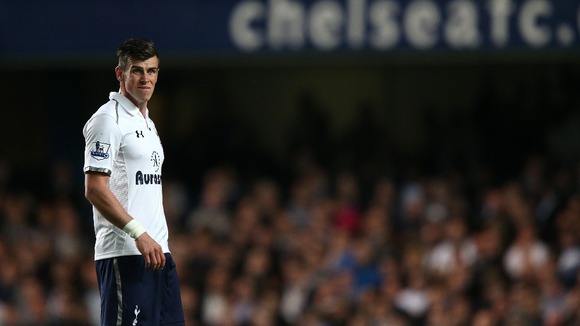 Gareth Bale's agent may have bat his eyelids at Florentino Perez with talk of a move to the Spanish capital, but the real race for the Premier League's player of the season is happening right here on our shores, apparently.
United, Man City and Chelsea are all scrabbling to offer the Europa-league bound Welshman a return to the brighter lights and distinctive theme tune of the Champions League.
Tottenham have placed an £80m bounty on their star man's head, but it appears not to have deterred the top three finishers as they look to give their respective new managers a sizeable early advantage in this unsettling post-Ferguson era. (Daily Mirror)
Will the soon-to-be-confirmed Blues boss Jose Mourinho get the edge in the negotiations though? Maybe, if you believe the report that the Manchester clubs are far too distracted by a separate tussle to lure Cesc Fabregas back to the Premier League from Barcelona. (Daily Mail)
The Madrid press, while mainly enamoured by the prospect of banned Liverpool nibbler Luis Suarez heading to the Bernabeu, also report a move from Real for another popular tabloid target Carlos Tevez.
With all-but-confirmed City chief Manuel Pellegrini apparently taking a liking to Pepe and Angel Di Maria as he begins life at the Etihad, perhaps a swap deal could be in the pipeline. (Marca)
Meanwhile, the confirmation of Radamel Falcao's departure from Real rivals Atletico could be unwelcome news for Aston Villa fans. Their young starlet Christian Benteke - who put in a bruising performance for Belgium overnight against the USA - is lined up as the now-Monaco man's replacement, and at (only) £17.5m. (The Sun)
Paul Lambert is doing his best to keep the Villa Park phoneline engaged by chasing Bulgarian international winger Aleksandar Tonev. He's a typical transfer target for the canny Scotsman given his youth (23) and lack of Premier League experience.
Lambert's old team Celtic are also in for the Lech Poznan player, along with Werder Bremen, but Villa have stumped up an opening bid of £3.5m, while also allegedly lining up Burnley's Charlie Austin to replace Fulham or Crystal Palace target Darren Bent. (Daily Mail)