Liverpool expect Luis Suarez to honour contract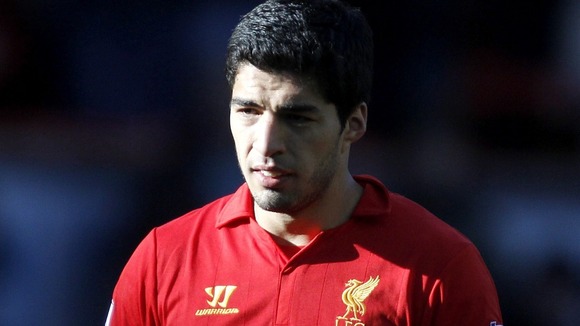 Liverpool look set to play hardball with their wantaway striker Luis Suarez after they responded to his comments about leaving the club by insisting the Uruguayan is not for sale.
Suarez has been quoted over the last few days as saying "it would be difficult to say 'no' to Real Madrid'', that "it's a good moment for a change of environment", and then that him departing the Reds is "understandable" because he does "not feel comfortable" anymore due to the "bullying" English media.
Liverpool reacted in a firm manner on Friday, with a club spokesperson saying: "Luis Suarez is not for sale - neither Luis or his representatives have communicated these feelings directly to Liverpool football club.
"The club remains supportive of Luis and expect him to honour his contract. We will not be making any further comment at this stage."
Suarez joined Liverpool in January 2011 from Ajax and his contract runs until the summer of 2016.
Speaking on Thursday at a Uruguay national team press conference, the 26-year-old said: ''My reason for leaving is not the money - if it were the money, I would have left already.
''My main reason is my family and my image - that is my priority now.
''It is a difficult moment for me. The coach (Brendan Rodgers) and my colleagues know that they (the English media) didn't treat me well here. I don't feel comfortable here anymore.
''They know it, so I think it is understandable that I leave.''
Suarez has frequently been in the headlines over the course of his Liverpool career, and for a variety of reasons.
He has scored more than 50 goals for the Reds in all competitions, and in 2012/13 - in which he netted 30 times - he made the shortlist for the PFA Player of the Year award, eventually won by Tottenham's Gareth Bale.
He is currently serving a 10-game ban for biting Chelsea's Branislav Ivanovic, served an eight-match ban for racially abusing Manchester United's Patrice Evra, and has faced repeated accusations of diving.
Regarding the English media, Suarez said: ''Being persecuted by the paparazzi all the time", and added: ''I know it is normal being followed by the press, but it was too much.
"All the silly things they said about me, all the pictures, all the taunts. That happened every day and nobody supported me.
"They talk about me being named as the best player in England, but I knew it wasn't going to happen because of the way they treated me.
''The straw that broke the camel's back was my mistake (the biting incident). I accept it - my fault. But they went too far.''
Suarez confirmed there had been no bids for him yet, and said he was unsure about when a move might materialise, if at all.
He said: ''I don't have any offer yet. I don't know when I will leave or even if I will finally leave, or I will stay.
''If I stay, I will do my best here, but I don't think that will happen because of all the bullying from the press against me.''