Theo Walcott eyes 'fantastic' striker role against Brazil in Rio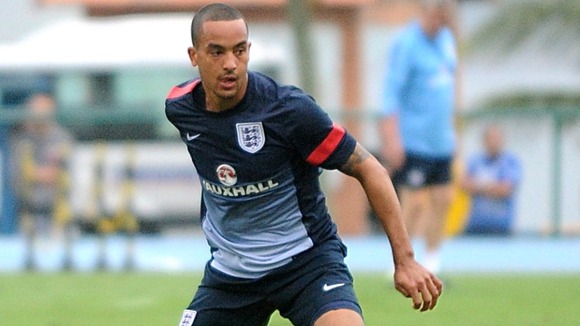 Theo Walcott would love the opportunity to prove himself as a striker for England against Brazil in the Maracana tomorrow but is equally happy playing on the wing.
The Arsenal player scored 14 goals in the Barclays Premier League last season - Frank Lampard and Rickie Lambert were the only English players to do better - although most of Walcott's goals came from the wing.
Walcott played as a forward in England training for a spell out in Rio but given manager Roy Hodgson's limited options in midfield may have to settle for his usual role.
"I don't know - it would be fantastic," Walcott said when asked about playing as England's main striker.
"People say I've played up front but I have had limited opportunities this year. I've played on the wing and got most of my goals from there.
"Playing for England in any position is a dream. The manager picks the team and whoever plays will go out and do a job and hope to win. I have had a go in training so we will see.
"My confidence is good and that was from playing on the wing. I will play anywhere for club and country and the goalscoring side of things have got much better."
Walcott was stunned to see even the kids on the Copacabana beach producing skills that are beyond him but insists England can hold their own against Brazil.
He added: "As soon as you come here you realise just what a football place it is.
"We had a stroll on the beach and seeing some of the kids who were six or seven using their shoulders and everything to play beach volley. - I can't even do that myself. It shows technically they have got it out here.
"It is going to be spectacular to just be out here in Brazil itself and to experience different parts of Brazil."
But England were themselves impressive against Brazil at Wembley, in an open match that ended 2-1, and Walcott believes the hosts are not as intimidating a force as they once were.
He said: "It was probably the best performance at Wembley we have had for a long time. When you play against the best that seems to bring something out of you a bit more.
"It will be tough, they will want to show the crowd what they can do. Playing against England is always a great spectacle. I think Brazil aren't the team they used to be. In a couple of years they could be very good, but I look forward to challenge. It will be a good one."
Tottenham striker Jermain Defoe, who will be rivalling Walcott for a place up front on Sunday, insists that England have a good mix of players.
He said: "There have been some great moments, games and team performances with England.
"We have a good mix of senior and young players and it takes time but let's qualify for the World Cup and see where that take us."