Brazil v England: Joe Hart confident of return to Rio de Janeiro for World Cup 2014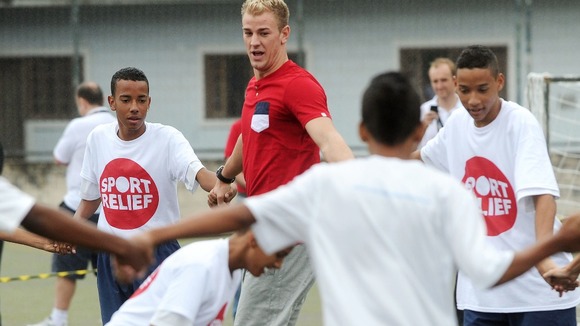 Joe Hart insists England are not living in fear of missing out on a return to Brazil for next year's World Cup.
Qualification for the tournament is by no means assured for Roy Hodgson's men who are two points behind Montenegro ahead of the autumn's final matches.
Manchester City keeper Hart is refusing to even contemplate the disaster of missing out and says England have proved themselves against the best teams in the world.
He said: "That's not really the way we think. You don't live in fear. If we do win all our games which is perfectly in our power to do then we will be back here in Brazil.
"Unfortunately we have not got the results we wanted in all the games but we have left ourselves in a good position to finish strongly, we have good home games to play.
"Hopefully we can win all of them and then have a tough game in Ukraine and then it will take care of itself."
He added: "It's hard but we are up there and we believe we can do it, we have beaten Brazil, we beat Spain and got a few good results in the Euros last year."
For Hart, the experience of coming to Rio de Janeiro to play Brazil in Maracana has only whetted his appetite to ensure he returns in a year's time.
"It's amazing to be here in Brazil," Hart said.
"It's definitely fulfilling an ambition. I keep doing things I never thought would be possible and potentially with a good season next year we could be back in Brazil playing in the World Cup.
"It's good to be out here and see that Brazil is going to be a really exciting place for sport in the next couple of years."
The friendly will bring an end to a difficult season for Hart, who found himself on the receiving end of public criticism from now-departed City manager Roberto Mancini.
Hart admits that he dropped below the high level of City's previous title-winning season but says there is no major issue with his form.
"I just keep the same level of commitment and energy as always, it's not always going to go to plan which has been proven this year," he said
"The year before was excellent, this year hasn't gone to plan, but football doesn't all revolve around me and Man City and we are going to come again harder next year.
"It's a test every year, it's not easy, it's a hard game to play in, it's a test I love being a part of and I want to keep it going.
"My goal is first and foremost playing well for my club and then hopefully for my country.
"It's not always gone perfectly for me, I have worked hard, opportunities have come my way and I've taken them. I have had tough times and come through them and I look forward to those kind of challenges.
"The beauty of it is you set your standards that high so that if something doesn't go quite well it's half a compliment that people say your standards have dropped.
"It's not like the wheels have gone off if something goes wrong, and you've not cracked it if something goes right. It's got to be on an even keel and go on from there."