England v Brazil: Phil Jones to start at Maracana, Roy Hodgson confirms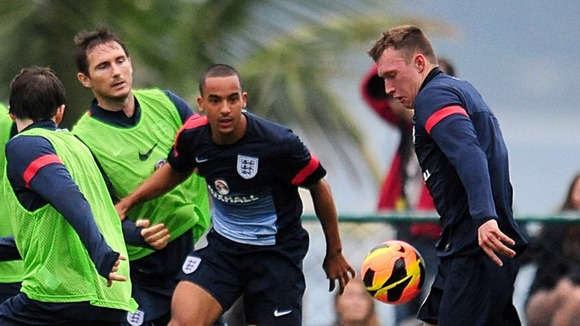 Manchester United's Phil Jones will line up against Brazil at the Maracana tonight in an England team captained by Frank Lampard, manager Roy Hodgson has confirmed.
Jones has six England caps to his name but Hodgson would not confirm whether his seventh would come in the role of central defender, his preferred position, or that of a holding midfielder.
The versatile 21-year-old came off the bench to play at right-back against the Republic of Ireland in midweek and Hodgson is now ready to start him against the five-time world champions.
"He'll play (today), yes he'll start," confirmed Hodgson, who stopped short of naming the rest of his starting XI, save to confirm that Lampard would be skipper after he passed the honour to Chelsea team-mate Ashley Cole against Ireland.
"Frank is captain - but I'm not going to say any more on the subject of formations."
Injuries to strikers Daniel Sturridge, Danny Welbeck and Andy Carroll have left England short of options for tonight's eagerly anticipated clash - and Hodgson claims the national side is suffering from a lack of depth in attack.
"It's fairly obvious to everyone that one of the areas where we've been unfortunate is in the choice of front players and the availability of front players," he said.
"Certainly three of the front players I would like to have taken here with me have not been available for selection.
"We would like a stronger pool of front players to choose from, so that when one or two get injured we still got some left.
"But I'm afraid that I manage England, I don't manage other countries, and that's what we have in England.
"If you look at the Premier League, most of the strikers are foreigners. But there's nothing we can do about it. We pick from the players that we have."
Manchester United striker Wayne Rooney looks certain to start up front tonight, but the interesting decision will be who plays alongside him, with Jermain Defoe and Theo Walcott in the frame.
"One option is Defoe and Rooney or even Walcott and Rooney," Hodgson added.
"The other option is to play Wayne or one of the others up there on his own and bring someone extra into the midfield. We want to keep our wide players like we had the other night."
Hodgson said he had no concerns about Rooney's form despite the striker being dropped by United towards the end of last season.
"I thought his performance the other night was good," he said. "I thought he played well. I thought he was very active.
"I have no reason to doubt his form and no reason to doubt his desire to do a good job for us."
Hodgson has been on the defensive since coming in for flak after the 1-1 draw with Ireland, and even went so far as to produce statistics to back up his claim that his team has progressed since the disappointment of Euro 2012.
"After the Euros we came in for criticism for our ball retention, not passing the ball very well," he said. "We actually made 500 passes the other night, which is more than double the passes we had in the Euros. And that was three-times greater than the Irish team.
"We got 75 final-third entries and 40 attacking entries, and 20 shots and 20 crosses.
"If you go back to the statistics during the Euros, you'll see a major difference. Now that gives us some encouragement."
Hodgson also insisted the outcome of tonight's match should not be used to predict England's likely fortunes in their must-win World Cup qualifiers in the autumn.
He said: "In September when we go into the qualifiers there might be as many as six or eight very, very interesting, very talented players pushing for a place in the team.
"I don't really understand how a game at the end of a long season here in Brazil can be a tremendous barometer as to how well you do in September.
"It's the opening of the new Maracana, the Maracana is one of those iconic grounds where all footballers would like to have said, 'I stepped out and played at the Maracana'.
"We would like it even more if we can do it next year but we have got this chance this year and I know ... there are going to be 11 players who are desperate to play, delighted to have been given the chance and having only one thing in their mind: to come off with a good result."