Player profile: Iago Aspas, striker Celta Vigo
by Will Unwin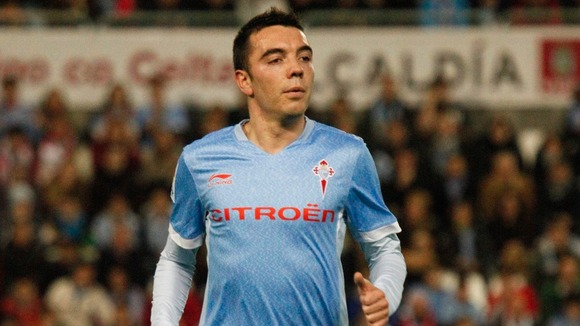 Name: Iago Aspas
Position: Striker
Born: 1987
Club: Celta Vigo
Country: Spain
It's almost a forgone conclusion that Iago Aspas will be lining up in the Premier League next season in the red of Liverpool, after an impressive campaign in La Liga.
Aspas' Celta Vigo just managed to stave off relegation from the Spanish top-flight, but he came out of the year with his profile rocketing thanks to 12 goals in a team that struggled.
Brendan Rodgers loves a bargain, and feels that the reported £8million fee that he will inevitably spend on the Spaniard will be money well spent.
The Galician has operated as a lone frontman for much of his time with Vigo, which could be a great help to Liverpool due to the loss of Luis Suarez to suspension and Daniel Sturridge's ankle ligament damage, which will keep them both out for the early stages of next season.
His versatility, by being able to play as a focal striker, a No.10 or even out wide, will make him a valuable commodity on Merseyside, especially considering the lack of consistency in Liverpool's forward line this season.
Occasionally described as bustling, the forward offers plenty in the final third. He has a ferocious attitude to the game, and is always willing to work when things aren't going well, but also brings with him wide-ranging vision in possession, and intelligent running without it.
The bright movement, which brings him many of his goals, could only be aided by having the likes of Philippe Coutinho and Luis Suarez around him at Liverpool.
The final act of his Celta career was to provide the assist for the goal that saw the Galician side survive in La Liga for another year, which was great example of quick feet and smart wing play from the 25-year-old.
Aspas' never-say-die attitude has seen him overstep the line, but he only has a couple of dismissals to his name during his career, but this part of his game is rarely seen as a negative.
Brilliant assist from Iago Aspas. Plays on shoulder of full-back, makes Colotto look a fool with quick feet then plays ball across goal.
Football inflation update: Abel Resino says Iago Aspas is 1000% ready for the game.