England Under-21 boss Stuart Pearce: We need to change, if we want to win the World Cup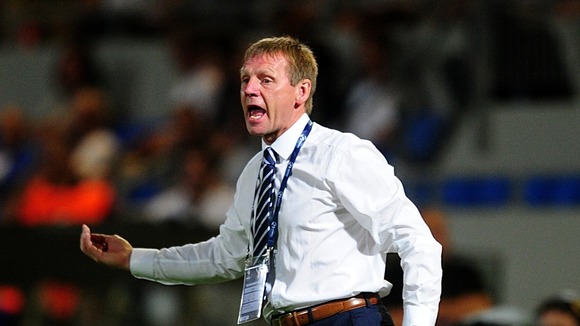 Stuart Pearce has told the Football Association that England will never win the World Cup unless drastic changes are made.
It is nearly 47 years since the Three Lions last tasted glory and it does not look like that run will end any time soon.
Qualification for the 2014 World Cup, looks like a tough ask at the moment, while success at age group competitions has been hard to come by.
Pearce knows that all too well, having spent more than a decade playing for the senior team before taking charge of the Under-21s in 2007.
It is such experience that has led the former full-back, currently in Israel with the Young Lions, to believe that the approach to international tournaments is in need of radical reform.
"I will tell you now what you need to do to win a tournament and be successful," Pearce said.
"It was exactly the same as the French, Spanish and Germans before us. They have all done this prior to us.
"You qualify with your best players. You take your best team to the tournament and you take your best players.
"That is the only way you will have a hope of being successful. The statistics back that up.
"We have done a study over the last 10 years. In that time, only Spain surpass us in terms of qualification for tournaments, from Under-17 level to the seniors.
"But when you flip it on its head and ask how many of our top 50 players who are playing in the senior squad now who have got tournament experience before they get there, we finish second bottom of the group.
"That study is around the top seven teams in Europe. It also incorporates the four top teams in South America and Mexico. The statistics are there.
"It is whether you want to ignore them and think it doesn't matter, we will just turn up and try to win a World Cup. Or do you want to put the building blocks in place?
"Experience is exactly that. I made my England debut when I was 25. I was nervous at Wembley.
"I had 20 caps before the World Cup in Italy but nothing prepared me for stepping out into the pressure that came my way.
"From that experience, I said 'that can't be right'. It is a pathway I do not want young players to tread.
"I want them to get that experience (of tournaments) before they step out on to that stage.
"You only have to look at the development of Theo Walcott. He went to the World Cup in 2006. Since then, he could have gone to two World Cups, two European Championships, three Under-21 European Championships, two Under-20 World Cups and an Olympic games, age permitting.
"I think he has only played five-and-a-half tournaments matches in that period.
"We have to address that, so our brighter players, like the Oxlade-Chamberlains, can get tournament experience - playing time - and don't just go to them."
Oxlade-Chamberlain is amongst the current crop of players that Pearce believes England have missed a trick with.
The current structure, coupled with injuries, suspension and a lack of appetite, left the Under-21s without 17 eligible players for last night's European Championship opener against Italy.
The Young Lions duly lost 1-0 and will exit the group stage for the second tournament in succession if they lose to Norway on Saturday.
"If you bring your best players, you stand a chance of winning the tournament," said Pearce, whose contract expires at the end of the month.
"If you don't bring your best players, you take your chance when you get there. That applies to every country in the world.
"I have a conversation with the England senior manager about what players he wants. He has first dibs and rightly so.
"Everyone who is left over is available to the Under-21 squad. You then have to look at certain injuries.
"At any given times, you will lose four to five players at the end of a season. You have to accept that.
"Then there are one or two players who do not want to give their summers up, whichever way you look at it, to go and represent their country. That's just how it is."